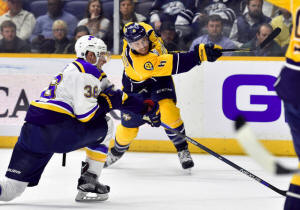 Late, deflected goal pushes Blues past Predators
Send a link to a friend Share
[February 03, 2016] NASHVILLE, Tenn. -- Over and over, the Nashville Predators tried to clear their defensive zone. Over and over, the St. Louis Blues denied them.
Finally, at the end of a 57-second stint in Nashville's zone, St. Louis produced the only spasm of offense in a game that seemed destined not just for overtime, but a shootout.

Right winger Troy Brouwer's deflection of a one-timer by defenseman Alex Pietrangelo at 18:55 of the third period Tuesday night gave the Blues a 1-0 win at Bridgestone Arena.

It was the 10th goal for Brouwer, who was at the net's right side and saw Pietrangelo's shot carom off his shin guard past helpless Predators goalie Pekka Rinne (19-16-7). Rinne made 11 of his 22 saves in a third period mostly dominated by the Blues.

"You either try to get in front of the goalie or get a stick on it," Brouwer said. "Luckily, he hit it kind of at me, so I didn't have to do a whole lot to get it to go in."
St. Louis forced three of Nashville's 22 giveaways in the sequence that preceded Brouwer's goal, denying the Predators a chance to shuttle fresh bodies on the ice. It was emblematic of the way the Blues played after a sluggish first period, as they allowed just eight shots in the last 40 minutes.

Goalie Brian Elliott (11-6-5) had to stop only 16 shots in his first shutout of the season and the 31st of his career as St. Louis (29-16-8) defeated Nashville for the fourth time this year.

"We've played well against them," Pietrangelo said. "It happens. I think when you play a team as much as we play them, since they're in the same division, we usually have a pretty good game plan coming in. And we've managed to execute it."

Both teams dealt with long layoffs thanks to the All-Star break, although the Blues' eight-day hiatus was more evident during a first period in which they managed only four shots on goal and 11 total. Elliott kept the game scoreless, though, thanks largely to his stop of center Ryan Johansen on a point-blank chance from the slot.

St. Louis began generating better chances in the second period, but Rinne kept the Blues off the scoresheet, delivering a pair of tough saves on quality chances by center Patrik Berglund.

Rinne, who came into the night having stopped 77 of 80 shots in three straight wins prior to the break, continued to play up to his old standards in the third. Left winger Magnus Paajarvi appeared to have an open net at the doorstep, but Rinne slid from right to left and made a pad save as the crowd of 16,045 roared.

[to top of second column]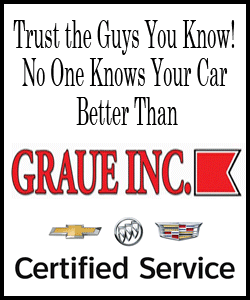 "You just had a sense that it was going to take a tip or a bounce to go in," Elliott said.

Brouwer gave the Blues that tip they needed as they notched their first 1-0 win of the season, ending the Predators' season-high four-game winning streak.

"We played a pretty good game defensively up until (the goal), but it was the mistakes we made with the puck that led to their offense," Nashville coach Peter Laviolette said. "They caught us at the end of a long shift, and a shot that was going a foot or two wide hits a shin guard and goes in."

St. Louis stayed three points behind the Dallas Stars for second place in the Central Division, while the Predators (24-19-8) remained a point ahead of the Minnesota Wild for the Western Conference's second wild-card spot.

Blues coach Ken Hitchcock said his team managed to weather Nashville's early attack.

"There wasn't much room out there, not many scoring chances," he said. "It felt like a playoff game."

NOTES: St. Louis LW Magnus Paavarvi (upper-body injury) returned to the lineup for the first time since leaving a Jan. 9 game in Los Angeles after taking a hard check into the boards. ... Nashville LW Eric Nystrom (broken foot) landed on IR Tuesday. Nystrom was struck by a slapper from D Shea Weber on Jan. 26 in Vancouver. ... The Blues scratched D Robert Bortuzzo, along with RWs Ty Rattie and Ryan Reaves. ... D Anthony Bitetto was the Predators' only scratch.
[© 2016 Thomson Reuters. All rights reserved.]
Copyright 2016 Reuters. All rights reserved. This material may not be published, broadcast, rewritten or redistributed.