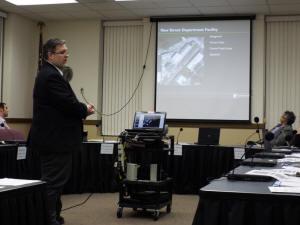 Lincoln Aldermen receive update on new Street Department facility
Construction to be paid for by Common Wealth Edison and Nicor Gas

Send a link to a friend Share
[February 03, 2016] LINCOLN - At the Monday night meeting of the Lincoln City Council, John Bishop of Farnsworth group shared a completed site plan drawing for the Lincoln Street Department facility.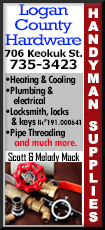 The city of Lincoln is being required to move its street department from the current location on Third Street to a new location just off of Limit Street behind the Illinois American Water Company building.

This is the final steps of an ongoing ruling by the Illinois EPA that there is soil contamination at the Third Street location and that soil remediation is required.

The construction of the new facility will be the end-stage of a project that began in 2009. In that year, the city was advised that the Illinois EPA was requiring soil testing be performed at the Third Street location because it was the former location of the Lincoln Gas Plant. The plant had been erected before regulations for contaminates existed. The plant closed in the 1960's and after that, was developed into the existing street and alley facility.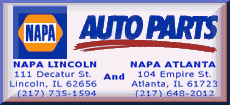 In 2009, the council learned that Common Wealth Edison and Nicor Gas would be held responsible for the remediation of contaminated soil, and that alternate locations, either temporary or permanent would be provided at the expense of those two companies.

As a result of this order, site studies were done in 2012 to determine viable locations for the department. There were also studies done to determine if the department could eventually return to the Third Street location; it was determined that it could not.

In 2015, the city determined that a parcel available just off of Limit Street was the best location for a new permanent site. CWE and Nicor Gas provided the funding to purchase the site.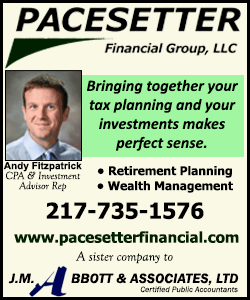 This week, Bishop showed the council a drawing of what will be the new facility. In the drawing, the large building on the right is large enough to house city trucks and equipment plus offices and employee amenities space. The large black structures on the left will be the new Salt Storage facility and equipment storage that can hold 'blades' used for snow and ice removal.
In reviewing the plan, Bishop pointed out that there would be water run-off retention ponds, landscaping, and room left over for any future additions the city needed to make to the facility.

Bishop explained that the salt storage area would be concrete stone walls with a tension fabric over it. He said it would have a "Quonset look."

Todd Mourning asked about the life of those fabrics. Bishop said depending of the quality of fabric, the life would be from 10 to 15 years to 25 years for the higher quality materials.

City Administrator Clay Johnson also shared that in addition to the exterior drawings, the city does have 90 percent completion for the floor plan and interior specifications of the buildings that could also be shared with the council.

As had been stated earlier in Mayor Marty Neitzel's 'State of the City' address, it is hopeful that in 2016 construction of the new facility will begin and even be completed.

[Nila Smith]