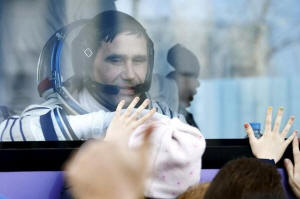 Russian cosmonauts breeze through spacewalk outside space station
Send a link to a friend Share
[February 04, 2016] By Irene Klotz

CAPE CANAVERAL, Fla. (Reuters) - Two veteran Russian cosmonauts returned to the International Space Station on Wednesday after replacing experiment equipment that is testing how materials and biological samples fare in the harsh environment of space.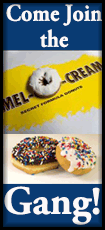 Station flight engineers Yuri Malenchenko and Sergey Volkov left the station's airlock at 7:55 a.m. EST (1255 GMT) for what was expected to be a 5-1/2-hour spacewalk, a live broadcast on NASA Television showed.

The men finished 45 minutes early and floated back inside the orbital outpost as it soared 250 miles (402 km) above Earth.

"We're ahead of the game," an awaiting crewmate, speaking in Russian, told the spacewalkers, a translator reported.

Malenchenko and Volkov began their spacewalk by casting off a flash drive into space, giving a ceremonial send-off to recorded messages and video from last year's 70th anniversary of Victory Day, said NASA mission commentator Rob Navias.

Victory Day commemorates the former Soviet Union's victory over Nazi Germany.

The flash drive eventually will re-enter Earth's atmosphere and burn up.

Malenchenko, who was making his sixth spacewalk, and Volkov, on his fourth, then collected samples from outside the airlock's hatch door and from a window. The swabs will be analyzed to determine how much residue from the station's steering thrusters has built up on the surfaces.

[to top of second column]
The cosmonauts subsequently made their way to the site of a seven-year-old European science experiment holding plant seeds, bacterial spores, fungi and other samples. They removed the equipment and installed other devices to test how biological samples and various materials, such as coatings used on spacecraft, withstand the extreme temperature swings and high radiation of space.
The station is a $100 billion research complex owned and operated by 15 nations. Rotating crews of astronauts and cosmonauts have staffed the orbital outpost since November 2000.

The first crewmembers to spend one year in orbit, NASA astronaut Scott Kelly and Russian cosmonaut Mikhail Kornienko, are scheduled to return to Earth on March 1.

(Reporting by Irene Klotz; Editing by Paul Simao)
[© 2016 Thomson Reuters. All rights reserved.]
Copyright 2016 Reuters. All rights reserved. This material may not be published, broadcast, rewritten or redistributed.