Mount Pulaski Courthouse to Celebrate Lincoln's Birthday February 12
And other news from the Courthouse
Send a link to a friend Share
[February 06, 2016] LINCOLN - Remember Abraham Lincoln on His 207th Birthday - A reception featuring coffee, cookies, hot cider and fellowship will be held at the Mount Pulaski Courthouse on Friday, February 12, from Noon to 4 p.m.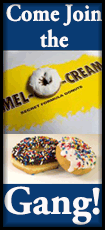 The public is invited and encouraged to come and honor the 16th President of the United States who held our nation together in the 1860ís.

"Come to honor the man who still brings people to our town because he practiced law here on his journey to the White House. And, look for some fun surprises at the party," said Courthouse Site Manager Stroud-Borth.

Mount Pulaski was the second county seat of Logan County but only had that honor from 1848 to 1855, when the county seat went permanently to the new town of Lincoln, in the center of the county.

The Mount Pulaski Courthouse opened as a State Historic Site in 1939. It is managed by the Illinois Historic Preservation Agency. The Mount Pulaski Courthouse Foundation was founded in 2011 to help care for and celebrate the Courthouse.

Other News
Danner Trust Funds Upgrades to Mt. Pulaski Courthouse Restrooms

A grant from the Danner Trust has funded the installation of one taller toilet in each of the courthouse restrooms as well as a grab bar to help older or disabled persons.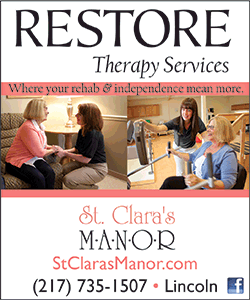 The Trust also funded the needed repair to the urinal which had not functioned since last July. Stroud-Borth thanked the Danner Trust for these very helpful upgrades.

Volunteers Needed

Volunteers are always needed for the Mount Pulaski Courthouse. Please call Barbara Stroud-Borth, 217-792-5126.
[Barbara Stroud-Borth]