Lincoln Art Institute's Mardi Gras a real show stopper
Send a link to a friend Share
[February 08, 2016] LINCOLN - Imagine a street full of spectacular floats and bands of Indians in elaborate feathered costumes surrounded by thousands of cheering fans shouting for beads! This is the classic Mardi Gras scene in New Orleans and Rio on the day before Lent begins.
Well, Lincoln did not have the parade but there was a Mardi Gras celebration at the Lincoln Art Institute as members of Logan County Arts opened their latest show. The walls of the LAI were hung with artwork by LCA members displaying their take on the raucous celebration of Fat Tuesday.

There was a sparkle in the beautiful gallery. After all, Mardi Gras is the day for the maximum party before settling down for the prayerful solemnity of Lent, as observed by many Christian denominations. The gallery was filled with masks, beads, and street scenes depicting the classic take on Mardi Gras.

Poet Vern Phillips got the celebration off to a great start with his depiction of the big day and the not so fun aftermath on Wednesday.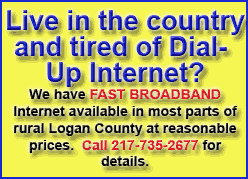 Cheryl Spove surrounded a mask with tiny glowing lights for her take on Mardi Gras. Can you guess what the title of her piece, "Masq or Aid" means?

Nancy Rollings Saul depicted an actual event from Mardi Gras history when the Grand Duke of Russia visited as a young man. Her classic nested dolls with Mardi Gras decorations combined a classic Russian icon with Mardi Gras themes painted on them.

Artist Pam Moriearty was surprised with the varied art. "We did not discuss what we were going to do with the Mardi Gras theme beforehand. There was no conventional take on Mardi Gras, none of the usual hedonistic depictions," she said.

[to top of second column]
Gallery visitor Libby Anderson remarked that Moses Pinkerton, owner of the Lincoln Art Institute, was one of a kind for creating such a wonderful space for art.

"The Lincoln Art Institute is a wonderful addition to downtown Lincoln," said Mayor Marty Neitzel who stopped by to admire the works on display.
Quote of the evening comes from artist Mitch Douglas…"No matter the weather, no matter the mood, Mardi Gras is for all dudes."

You don't want to miss this fantastic, one of a kind show praised as one of the best yet from an array of exciting shows held at the Lincoln Art Institute.

The show runs through the month of February. Contact Moses Pinkerton at 217-651-8355 or Mitch Douglas at 630-890-1318 for information on gallery hours.

The March theme at the Lincoln Art Institute will be the annual "Calling All Artists" show. Any artist can display their work in the gallery. Contact Moses or Mitch for details. Last year's show displayed how much wonderful talent there is in central Illinois.

[Curtis Fox]