Park district notes
Updated January 4, 2016
From Lauren Ruckman, program coordinator

Send a link to a friend Share
[January 04, 2016] Babysitting Class - Lincoln Park District and Christian Child Care are teaming up to offer a babysitting class to teach your preteen/teen how to become a more responsible and dependable babysitter.
This class will take place on Monday, January 18 (MLK Jr. Day) from 1:00-4:00pm at the Lincoln Park District. This is free to attend, and the registration deadline is Wed. 1/13.

Tennis Camp

We are offering a tennis camp for kids starting in January. Camp will run on Sundays from 2:00-3:00pm from January 10 - March 6 (no lessons on 2/28), and the fee is $80 for the entire session (must register for the entire session). Participants will be split into two age groups (ages 5-10 and ages 11-18). Registration is going on now through the first day of camp (1/10). Call or stop by the front desk to register.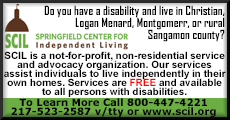 Fit as a Family

Join us for our Fit as a Family series. This is a healthy and fun way to spend time together!
WERQ is a perfect blend of easy to follow dance moves set to kid friendly music. Ages 6 and up accompanied by an adult.
Youth Cycling is a great way to stay active before sports spring training or just for fun! Ages 11 and up-adult need not be present.

Classes will be held on Sunday afternoons at 2:00pm beginning January 10. Please call the Lincoln Park District for prices and more information! 217-732-8770

Commit to be FIT in 2016!

We offer memberships to FIT any budget including a one month Full Access membership for only $30.00. All of our memberships include all scheduled group fitness classes. No daily fees! New to our schedule in January are later evening classes on Tuesday and Thursday. These include Relaxing Yoga, Spin, Zumba and Ripped Rhythm. Visit our web site or Facebook page for a full schedule.