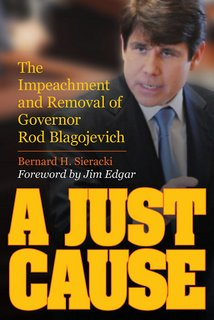 Behind the scenes of an impeachment
Lincoln Presidential Library welcomes author of new book on Blagojevich impeachment Jan. 21

Send a link to a friend Share
[January 16, 2016] SPRINGFIELD – The author of a new behind-the-scenes account of Gov. Rod Blagojevich's removal from office will speak Jan. 21 at the Abraham Lincoln Presidential Library and Museum.
Bernard Sieracki's "A Just Cause: The Impeachment and Removal of Governor Rod Blagojevich" describes the tightrope that legislators and staff walked for eight weeks as they took action while a criminal investigation was underway.

Sieracki will sign copies of his book at 6 p.m. and then speak in Union Theater at 6:30. He'll be joined in a panel discussion by House Minority Leader Jim Durkin, R-Westchester, and Sen. Andy Manar, D-Bunker Hill.

To reserve a seat at this free event, visit www.PresidentLincoln.Illinois.gov and click on "special event reservations."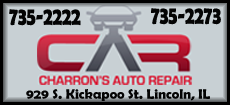 Blagojevich had been arrested by the FBI and charged with, among other things, trying to sell a U.S. Senate seat to the highest bidder. That triggered the legislative effort to oust the governor. But Blagojevich had not yet been convicted of any crime.

Sieracki details the steps taken by legislators and staff to go beyond the criminal charges and build a broader case that Blagojevich was so inept and dishonest that he deserved to be thrown out of office immediately. They succeeded, and Blagojevich was ousted on Jan. 29, 2009.
In his foreword, former Gov. Jim Edgar says Sieracki has produced "an important book" showing that legislators reacted to Blagojevich's arrest with "some of the most heartening activity we had seen from the General Assembly in recent years."

The Abraham Lincoln Presidential Library and Museum, a division of the Illinois Historic Preservation Agency, is dedicated to telling the story of America's 16th president through old-fashioned scholarship and modern technology.

The library maintains an unparalleled collection of Lincoln documents, photographs, artifacts and art. It also has some 12 million items pertaining to all aspects of Illinois history, making the library one of the nation's leading institutions for genealogy and history research.

For more information, visit www.presidentlincoln.illinois.gov.
[Shanta Thoele, Communications and Public Affairs, Illinois Historic Preservation Agency]