Visitation: 1 p.m. Monday, January 18, at Fricke-Calvert-Schrader Funeral Home, Lincoln
Service: 2 p.m. Monday, at the funeral home
Funeral home: Fricke-Calvert-Schrader, Lincoln
Obituary
Anneta M. "Nita" Hopp, 88, of Lincoln, received her wings and went to heaven at 2:00 a.m. on January 15, 2016 while residing at The Christian Village in Lincoln.

Services will be Monday, January 18, 2016 at 2:00 p.m. at Fricke-Calvert-Schrader Funeral Home, Lincoln with Ryan Edgecombe officiating. Burial will follow in Zion Cemetery. Visitation will be one hour prior to services at the funeral home. Memorial donations may be made to The Christian Village and will be accepted at the funeral home.

Anneta M. Willmert was born on April 22, 1927 in Beason, to the late Jacob and Cora Lee Willmert.

She married the love of her life, Donald E. Hopp, on November 25, 1953. He preceded her in death on June 19, 2006. Together they brought four children into their lives.

Nita retired from Ball-InCon Glass Manufacturing Corporation on May 1, 1989 and performed many other jobs throughout her lifetime. She was an avid bowler and member of the Moose Lodge, VFW, and Eagles Lodge.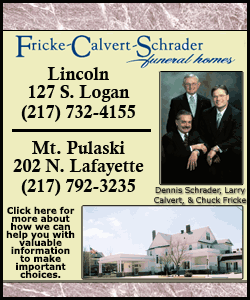 Surviving are her children Jon (Julie) Hopp of Mason City, Donna Sommers of Beason, and Don Hopp, Jr. of Lincoln; brothers Weldon "Pete" Willmert of Lincoln and Frank L. Willmert of Plymouth, MN; sisters Nola L. Turley of Lincoln and Iona Boward of Lincoln, ten grandchildren, eighteen great-grandchildren, and two great-great-granddaughters.

She was preceded in death by her parents, her husband, her first born son, Phillip Hopp; brothers Jacob G. Willmert, Harry K. Willmert, John R. Willmert, and Charles Willmert; sisters Lula Willmert and Cora Usherwood.
Click here to send a note of condolence to the family of Anneta M. "Nita" Hopp