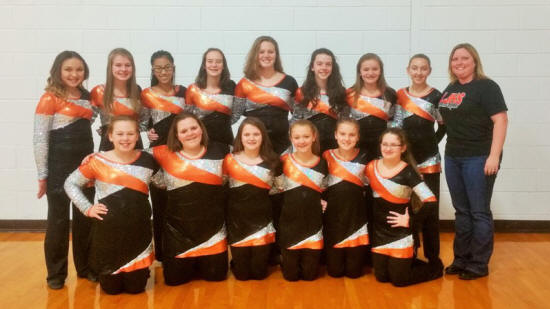 Front row left to right: Makayla Koehne, Sommer Bohannon, Julia Guzzardo, Emma Boyd, Madeline Cook, and Shelby Webb. Back row left to right: Olivia Morrow, Bayleigh Gillum, Kristina Nguyen, Emma Stoltzenburg, Faith Turley, Erin Barrick, Lynzie Luster, Ryen Stoltzenburg, and Coach Kirstin Smith.
LJHS Pom Team competes at regional event

Send a link to a friend Share
[January 20, 2016] LINCOLN - The Lincoln Junior High School Pom Dance Team has practiced for hours each week, for months. The team has performed the polished routines at half-time and between basketball games throughout the season. On Saturday the team took its show on the road, and participated in the Illinois Drill Team Association (IDTA) Regional in Clinton.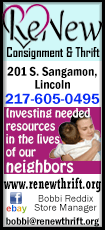 Dance teams are considered athletic teams, with as much physical ability, coordination and dexterity involved in performing as ball players that run the court. Competitions are important to a team's learning process, and offer a way to meet a higher standard by comparison.

Early in the school year, LJHS Poms Coach Kirstin Smith conducted a 3-day dance camp to develop techniques, and pull the members together as cohesive performers.
"The process allowed the girls to learn routines at a quicker rate throughout the season," said Coach Smith, "and allowed for more time to perfect their routines. Long practice hours allowed the girls to learn the competition routines early in the year."

Lincoln's team did not receive awards on Saturday, but the girls were given the opportunity to see themselves as part of a bigger picture, and look to next year with a different perspective on their performances. Next school year Coach Smith's goal is to enter the team in at least two additional competitions – all hosted by IDTA. The events are held across the state, and give the girls an opportunity to match their abilities and techniques with those of other teams.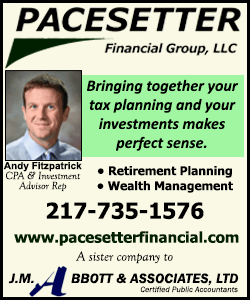 "Having the ability to put together a team from the ground up, to watch them grow through the season, and then flourish in competition when it counts the most, would make any coach proud," first-year Coach Smith stated, "and that is exactly what these girls did over the weekend."
-----
Thursday night will be 8th Grade Night at the boys' basketball game with Maroa-Forsyth giving a send-off to all 8th grade basketball players, cheerleaders and pom team members as the season comes to an end.
[Article and pictures submitted by Marla Blair]