Visitation: Wednesday, January 27, from 4 p.m. to 7 p.m. at Fricke-Calvert-Schrader Funeral Home in Mount Pulaski
Service: 10:00 a.m. Thursday January 28, at the funeral home
Funeral home: Fricke-Calvert-Schrader, Lincoln Mount Pulaski
Obituary
Wayne E. Crosier, 91, of Mt. Pulaski passed away at 11:55 P.M. Saturday January 23, 2016 at his home.

Wayne was born in Effingham County on August 29, 1924 to James and Nora Pease Crosier. He married Francille M. Ticknor on January 14, 1946.

Surviving Wayne is his wife, Francille of 70 years; his son, Dale (Vickie) Crosier of Maroa; his sister, Evelyn Potter of Kinmundy; grandchildren, Beth (Eric) Augenstein of Lake St. Louis, MO, Sara (Brian) Johnson of Maroa and his great- grandchildren, Sophia, Abigail, and Emma.

He was preceded in death by his parents, his sister, Helen and his brother, Eugene.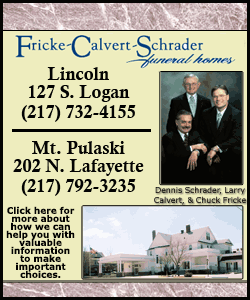 Wayne was an avid fisherman and bowler. He also enjoyed camping and his blue grass music.

Services for Wayne will be at 10:00 a.m. Thursday January 28, 2016, at Fricke-Calvert-Schrader Funeral Home in Mount Pulaski with Rev. Jonathan Buescher officiating. Visitation will be from 4 p.m. to 7 p.m. Wednesday January 27, 2016, also at the funeral home. Burial will follow the services at Mount Pulaski Cemetery. Memorial donations may be made in Wayne's name to The Mount Pulaski EMS.
Click here to send a note of condolence to the family of Wayne E. Crosier