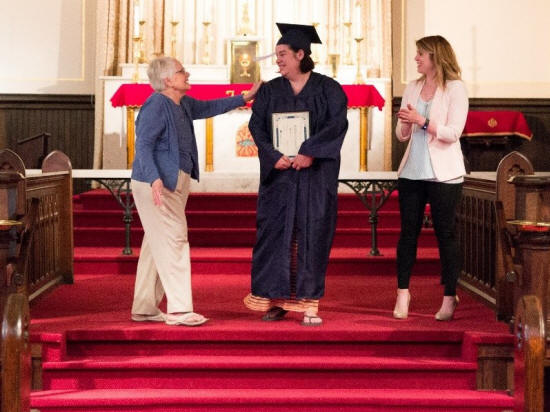 Champion Ellen Burbage, left, congratulating JFL graduate Katie
Crozier on completing the program
at the graduation ceremony held at
Trinity Episcopal Church in Lincoln,
along with Katie Alexander, right,
Director of the Community Services
Block Grant and the Hand Up Project.
Jobs for Life begins second class in February
Informational meeting for "Champions" and volunteers to be held this Thursday

Send a link to a friend Share
[January 27, 2016] LINCOLN - Community Action Partnership of Central Illinois is launching the second Jobs for Life training program in February at their Corporate Office located at 1800 5th street in Lincoln.
Jobs for Life offers a unique solution to poverty and joblessness by equipping participants with skills to meet the pressing employment needs of local businesses. This is an eight week course that will cover a variety of topics including: conflict resolution, effective communication skills, and how to develop a stellar resume.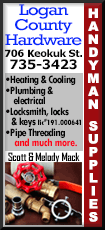 "One of the unique qualities of Jobs for Life is that it relies on a network of volunteers or 'champions' to commit to mentoring the students and forming relationships. Jobs for Life helps those in need find dignity and purpose through meaningful work," shares Alison Rumler-Gomez, Executive Director of Community Action.

One of the key components of the Jobs for Life program are mentors from the community that are referred to as 'Champions' and local business representatives who come in and speak to students on a regular/semi-regular basis. These individuals participate in the classes along with the students and provide knowledge and support along the way. Champions from the pilot program in Logan County gained as much from the experience, if not more, than the students. Ellen Burbage, member of Trinity Episcopal Church, and avid Champion shared her thoughts on volunteering her time for the Jobs for Life Program: "It was such a wonderful experience! The more I got to know the individuals in the class, the more excited I would become to see them each and every week. The amount of growth they obtained in both their soft and hard job skills was amazing. I look forward to being a part of the next Jobs for Life offered in Logan County."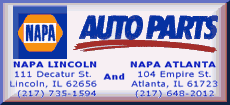 It is the mission of CAPCIL, in partnership with communities in our service area, to empower persons with low income and the aged by creating and implementing poverty-fighting initiatives for those in crisis and those that endeavor a life of lasting independence. The Jobs for Life Program is the first step in accomplishing this mission. Graduates of the Jobs for Life Program are then eligible for other courses through CAPCIL's Hand Up Project such as financial management and home ownership counseling, as well as scholarships for GED, trade schools, and 2-4 year institutions.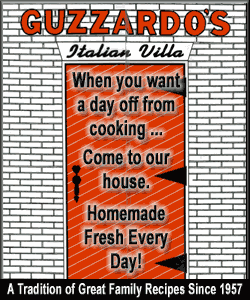 Amy DeValle, Project Coordinator for the Hand Up Project through CAPCIL, will be teaching the classes in Lincoln. "I am really excited to be teaching the Jobs for Life class. I am looking forward to helping un/under employed individuals become self-sufficient and also helping our community with economic growth."

To participate in the Jobs for Life Program as either a student or Champion please contact the Corporate Office at 217-732-2159.
CAPCIL is holding an informational meeting on Thursday January 28th at noon for anyone who is interested in becoming a Champion or Business Representative.
CAPCIL is also looking for local businesses to come and speak to the class about what they are looking for in an ideal employee. Food donations, as meals provided to the class, are also needed. All inquiries can be made to the number listed above.
[Katie Alexander]