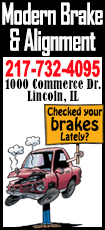 Therefore, there will be a SECOND "evening with Mark McDonald" held on Friday February 5th.
The reservation forms for this and all other dinner lectures can be downloaded from the Elkhart Historical Society website.
The society anticipates this date will also fill quickly, so please make reservations as soon as possible by calling 217-947-2238 to assure you get a seat.
The additional lectures for this quarter by Lincoln scholar Michael Burlingame on February 26 and Paul Beaver on March 18th are also filling up early.
The society is looking forward to an excellent lecture series this quarter, and are appreciative of all those who have chosen to come be a part of these events.
[J. Rob Wilson]
[© 2016 Thomson Reuters. All rights reserved.]
Copyright 2016 Reuters. All rights reserved. This material may not be published, broadcast, rewritten or redistributed.