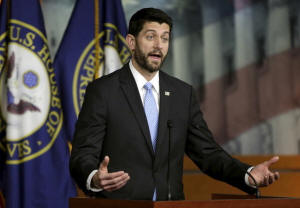 Obama to meet with Republicans Ryan, McConnell next week: White House
Send a link to a friend Share
[January 30, 2016] By Roberta Rampton

WASHINGTON (Reuters) - President Barack Obama will meet for the first time on Tuesday with Speaker Paul Ryan, the top Republican in the U.S. House of Representatives, to discuss budget priorities and ways to work together this year, the White House said on Friday.
The get-together with Ryan, which also will include Senate Majority Leader Mitch McConnell, will provide a gauge of how much or how little legislative common ground the three leaders share as Obama completes his final year in office.

"We certainly believe that there are areas of cooperation for the year ahead," White House spokesman Josh Earnest said.

It will be Obama's first formal face-to-face meeting with Ryan since he was elected speaker three months ago.

"While the House is focused on a bold agenda for 2017, the speaker appreciates the opportunity to see if we can find any areas of common ground in the year ahead," Doug Andres, a spokesman for Ryan, said.

During a closed-door meeting on Thursday with Democratic lawmakers, Obama said he does not expect Congress to get much done this year, according to an aide who was in the room.
The White House has said there are only a few items on Obama's legislative wish-list that have any chance of passing through the Republican-controlled Congress. They include reforming mandatory minimum prison sentences for non-violent drug offenses and taking steps to address an epidemic of heroin addiction and prescription drug abuse.

Obama also wants Congress to approve the Trans-Pacific Partnership trade deal, but he faces resistance from Democratic lawmakers concerned about the TPP's impact on jobs and the environment.
The White House announced on Friday that Obama's top legislative aide Katie Beirne Fallon, who was popular among Republicans and Democrats alike on Capitol Hill, is leaving after helping Obama secure enough votes for fast-track trade negotiating authority, the Iran nuclear deal and a budget deal.

[to top of second column]
Fallon will be replaced by her deputy Amy Rosenbaum, a former aide to House Democratic Leader Nancy Pelosi.

Obama's meeting with Republicans comes one week before Obama delivers his final budget proposal to Congress.

It also comes as Obama tries to make good on a pledge he made during his 2008 campaign to close the U.S. detention center in Guantanamo Bay, Cuba.

Obama is set to deliver a plan to Congress about closing the prison that will include measures to house a small number of detainees in facilities in the United States.

Lawmakers strongly oppose that idea.

(Additional reporting by Richard Cowan and Jeff Mason; Editing by Tom Brown and Leslie Adler)
[© 2016 Thomson Reuters. All rights reserved.]
Copyright 2016 Reuters. All rights reserved. This material may not be published, broadcast, rewritten or redistributed.