Kaiser-Frazer Classic Cars Coming to Atlanta on Monday

Send a link to a friend Share
[July 08, 2016] LINCOLN - Approximately 50+ Kaiser-Frazer classic cars will converge on Atlanta, Illinois on Monday, July 11th. These rare vehicles will gather for the 58th Annual National Convention of the Kaiser-Frazer Owners Club International, being held this year in Springfield.
As part of this three-day event, the group has planned a trip to Atlanta, specifically to eat lunch at Atlanta's Palms Grill Café. The Kaiser-Frazer cars will be in Atlanta from approximately 11:00am-2:00pm. The public is invited to come and view these classic cars, now rarely seen on the open road.

The Kaiser-Frazer car company produced vehicles from 1947-1955. Several new car companies entered the market following the end of WWII, but Kaiser-Frazer was the only one to succeed.
The company was a combined effort of Henry J. Kaiser and Joseph Frazer. Kaiser became a household name during the course of the war by earning the title of "The Miracle Man" due to the Kaiser Corporation's ability to produce a remarkable number of ships for the U.S. navy, some in as little as seven days.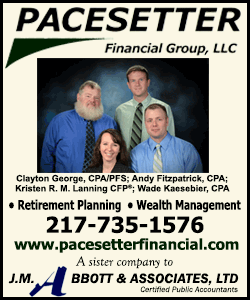 Joseph Frazer brought considerable experience to the new company, having previously worked for the Packard Company, as well as General Motors and the Chrysler Corporation.
[Bill Thomas]
(Copyright-free use) image was copied from wikipedia. The original description was: 1953 Kaiser Darrin