Visitation: 10 a.m. Friday, July 15, 2016 at the First Presbyterian Church of Lincoln
Service: 11 a.m. Friday, July 15, at the church
Funeral home: Fricke-Calvert-Schrader, Lincoln
Obituary
Emory Clark Gaffney, 95, passed away at 12:55 p.m. on July 5, 2016 at St. Clara's Manor of Lincoln.

Mr. Gaffney was born on October 5, 1920 in Lincoln, the son of Dr. Emory Clizbe and Ruth Katherine Ryan Gaffney. He married Dorothy "Dort" Harrison on April 15, 1944 in Fort Myers, FL. They celebrated their 72nd wedding anniversary this past April. She survives him.

Emory is also survived by his large extended family including: sister-in-law, Mrs. Dorothy Buckstegge (Jack) Harrison. His family includes his nieces and nephews, nieces-in-law and nephews-in-law: Nancy Mathews, Gerald (Susan) Dehner, Valerie (Gary Crawford) Dehner, and nephew-in-law, Tom Tiffany; Geoff (Pam) Harrison; Kathy (Bill) Daunais, Beth (Dave) Eckert, and niece-in-law, Bobbi Abbott; Maureen (Bernard "Hop") Looney, Tim Harrison, Terry (Cari) Harrison, Kathleen (Peter) Kollinger; Jack "Jay" (Debra) Harrison, Jan Saylor, Joe (Teresa) Harrison; Pam (Michael McArdle) Bubeck, Chris Harrison and Sean (Jennifer) Harrison, as well as many great-nieces and great-nephews.

He was preceded in death by his parents, one sister, Edith Claire Dehner; niece, Betty Tiffany; nephews, J. Michael "Mike" Abbott and Andrew Auld; sisters-in-law, Katherine Abbott, Eleanor Harrison and Ruth Harrison; brothers-in-law, Jim Abbott, Ben Harrison, Jack Harrison, and Phil Harrison.

Emory graduated from Lincoln High School, earned his undergraduate degree from Baylor University in Texas and then completed his master's degree in Accounting from the University of Illinois. He earned his Certified Public Accountant (CPA) license and opened an accounting firm in downtown Lincoln at the Griesheim Building where he practiced for 30 years.

Emory was a veteran of 3 branches of military service—U.S. Navy, Army Air Force, and U.S. Air Force. He served in both WWII, where he was a B-29 navigator, and also the Korean War.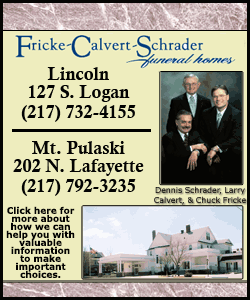 In 1934 (over 82 years ago), he became a member of the First Presbyterian Church, where he served as a Trustee, Elder and church Treasurer for several years. He was also a member of the Elks Lodge 914 for 71 years.
Emory's interests in tennis became a big part of his life in grade school. At Lincoln High School Emory and his doubles partner finished in 3rd place at the IHSA tennis tournaments in 1936 and 1937. During WWII while stationed in Panama, he had the distinction of being their National Tennis Champion. Locally known as an outstanding tennis player, Emory had the honor of winning the City of Lincoln's Tennis Tournament at least one time for 7 consecutive decades, beginning with his first victory in 1937 and his last in 1991. He continued to play tennis competitively until he was 76 years old.

Emory and Dort also shared a love for traveling. They visited all 50 states, including driving the Alaskan Highway, where they even stopped along the way to post a "Lincoln 3,076 miles" directional sign. They also made trips abroad to Australia, New Zealand, Thailand, Japan, China (walked the Great Wall), Africa, Ireland, Scotland and England.

A Memorial Service for Mr. Gaffney will be 11:00 a.m. Friday July 15, 2016 at the First Presbyterian Church of Lincoln with Rev. Adam Quine officiating. Visitation will be one hour prior to the service also at the church at 10:00 a.m. Burial at New Union Cemetery will follow the service where full military rites will be accorded by the Lincoln American Legion Post #263.

Memorials may be made in Emory's name to the First Presbyterian Church of Lincoln. Services are entrusted to Fricke-Calvert-Schrader in Lincoln.
Click here to send a note of condolence to the family of Emory Gaffney