Visitation: Tuesday July 12, 2016 from 4 p.m. to 7 p.m. at Fricke-Calvert-Schrader Funeral Home in Mount Pulaski
Service: 10:00 a.m. Wednesday July 13, at Zion Lutheran Church in Chestnut
Funeral home: Fricke-Calvert-Schrader, Mount Pulaski
Obituary
Jeremiah Williams, 24, of Mount Pulaski, passed away at 9:08 a.m. Friday July 8, 2016 at his residence.

Jeremiah was born on March 5, 1992 in Decatur, to Jeremy Gaspirin and Renae Bahn Williams. He was later adopted by Rodney Williams Jr.

He is survived by his parents, Rodney and Renae Williams Jr. of Edinburg, birth father, Jeremy Gaspirin, of Lincoln, two brothers, Paul and Jacob Williams both of Edinburg, three step brothers, maternal grandmother, Kathryn Bahn of Mount Pulaski, his paternal grandmother, Stella Williams of Taylorville, and grandmother Peggy Knollenberg of Lincoln. He was preceded in death by his maternal grandfather Vernell Bahn, his paternal grandfather, Rodney William Sr. and his uncle Austin Bahn.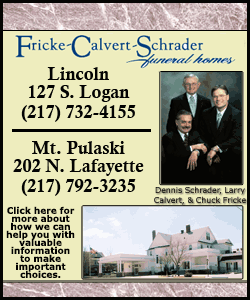 Visitation will be Tuesday July 12, 2016 from 4:00 -7:00 p.m. at Fricke-Calvert-Schrader Funeral Home in Mount Pulaski. Services will at 10:00 a.m. Wednesday July 13, 2016 at Zion Lutheran Church in Chestnut, with Rev. David Dunlop and Rev. James Hennig officiating. Burial will be in Mt. Auburn Cemetery.

Memorials may be made to Zion Lutheran Church in Chestnut, or Concordia Lutheran Church of Springfield.
Click here to send a note of condolence to the family of Jeremiah Williams