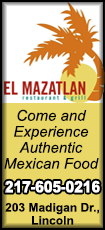 ANNUAL SEALED BID AUCTION

The annual 2016 Sealed Bid Auction Sale catalogs and bid forms are now available at the Logan County's Treasurer's office at Logan County Courthouse, Rm. 11, Lincoln, IL. These properties are by-products of the County's Tax Collection Program. Included are houses, lots, and mobile homes that are up for bids for purchase with minimum bid of $645.00 for real estate and $695.00 for mobile homes. We hope to return these properties to productive use and insure that the taxes are paid in the future.

You may contact my office at 217-732-3761 or our County Tax Agent/Auction Sale Department at 1-800-248-2850 for more information. Last day to bid is August 12, 2016.
[Vicki L. Dugan, Logan County Treasurer]