Visitation: 5 p.m. to 7 p.m. Friday, July 22, 2016 at Holland Barry & Bennett Funeral Home, Lincoln
Service: Saturday, July 23, at 11 a.m. at the funeral home
Funeral home: Holland Barry & Bennett Funeral Home
Obituary
Carol Joy Gissler, 78, of Lincoln, passed away July 13, 2016 at Memorial Medical Center, Springfield with her family by her side.

Visitation will be from 5-7 p.m. Friday, July 22, 2016 at Holland Barry & Bennett Funeral Home, Lincoln. Funeral services will be Saturday, July 23, 2016 at 11 a.m. also at the funeral home with Pastor Tracy Thomas officiating. Burial will follow in New Union Cemetery, Lincoln.

Carol was born May 6, 1938 in Elkhart, the daughter of Edward and Helen (Rhoads) Hunter. She married David P. Gissler on September 7, 1956 in Elkhart. She was a member of Lincoln Christian Church. Carol was a bookkeeper at Burwell Oil for several years and also was previously employed as a cashier at Green Oil Company. She was a member of the United States Bowling Congress and was an avid bowler for 52 years. She enjoyed trips to the boat and trips to the park to watch deer.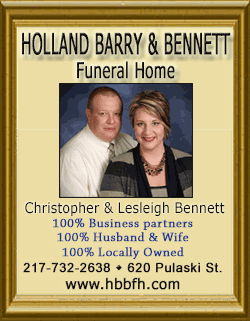 Surviving are her husband David P Gissler of Lincoln; daughter Pat (Clint) Sheley of Lincoln, son David Karl (Kathy) Gissler of Decatur, son Tim Gissler of Lincoln; sisters Ila (Dale) Lowman of CA, Bonnie M. Herrin of Lincoln, and Wilma (Bill) Morris of Glen Ellyn; sister in law Alberta Hunter of Lincoln; grandchildren Candace (Jeff) Company, Ryan (Katie) Sheley, Laura Gissler, Rick Gissler, Faith Keck, Jared Gissler, Marisa Gissler, and Haylie Gissler; great-grandchildren Noah Company, Alyssa Company, Morgan Sheley, Brooklyn Sheley, Elijah Grotjan, Isaiah Grotjan, and Gabriella Keck.

She was preceded in death by her parents, brothers Dean Hunter, Bill Hunter, Alva Hunter, and Cliff Hunter, and sisters Mary Carter, Wanda Johnson, and Erlene Hunter.

Memorial donations may be made to Lincoln Christian Church and will be accepted at the funeral home.

Click here to send a note of condolence to the family of Carol Joy Gissler