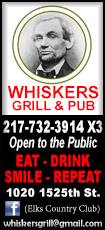 The garage sales this year, offer approximately 100 sales, located in Atlanta, Broadwell, Hartsburg, Lawndale, Lincoln and even Mason City.

In Lincoln, there are approximately 90 sales going on, including scores of individual sales at personal residences and several group sales throughout the town.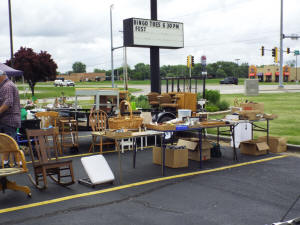 One such sale will take place in the Oasis Senior Center Parking lot, as vendors who normally participate in the First Sunday Market held there, will gather on Friday and Saturday only to offer their wares to the masses of shoppers that will come to town. For the Oasis, the First Sunday Market, as well as this event is a fundraiser to help maintain the Senior Center. Each of the vendors at the Market pays a set-up fee to the Oasis.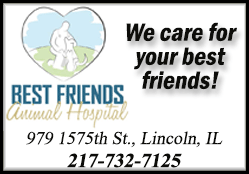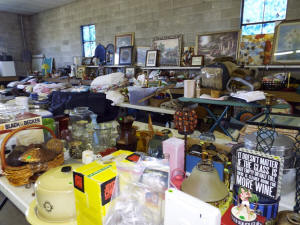 Another great sale that everyone looks forward to each year is the Humane Society of Logan County Sale. The sale will be held at the Logan County Fairgrounds, inside one of the fairground exhibit buildings. This year, the group has collected a record number of donations, and the variety is astounding! It is definitely a sale you donít want to miss. All of the items offered by the HSLC are donated to them for this annual event. Proceeds of the sale will go to the daily management of the HSLC Animal Shelter, located in Lincoln.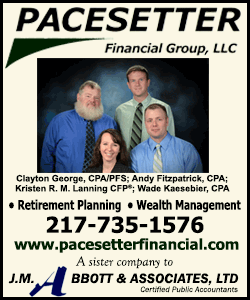 At the Lincoln VFW on Fifth Street, there will be vendors inside and out, selling their wares. Among those will be the Logan County Veterans Celebration Committee that will hold a bake sale starting at 8 a.m. each day. On Friday, the group will also be selling a lunch at the VFW. Funds raised through their sales will go toward the Veterans Celebration held each year in November. The celebration is sponsored by the St. John United Church of Christ, the Lincoln First Baptist Church, and friends of veterans throughout the community.
Other fundraiser sales will take place at the Christian Village, located at 1500 Seventh Street, Park Meadows Church at 800 Memorial Park Road, and Zion Lutheran Church located at 205 Pulaski Street, all in Lincoln.

Vendors are also going to be set up at Postville Park on Fifth Street in Lincoln as well as at the Mill on Route 66, located at 738 South Washington Street in Lincoln.

In addition to having an opportunity to support some great local fundraisers, the Route 66 Garage Sale event is a fundraiser within itself, as dollars gained through registration for the sale will be donated to the Mill on Route 66 Restoration project.

Each individual or group that participates in the sale this weekend registered with Andrea Dykman, who serves on the board of the Save the Mill/Route 66 Heritage Foundation. In return for their registration, participants are given a large pink Route 66 Sale sign to post near their location. The address of the sale is also listed on a map that is being distributed in several locations throughout the area. The maps were seen on Wednesday at local gas stations, with people grabbing them up so as to formulate their attack strategy on what will undoubtedly be a big and busy day.

The maps will also be available at the Logan County Alliance/Logan County Tourism Bureau located at the intersection of Lincoln Parkway and Fifth Street Road in Lincoln, and at the Lincoln Printers office located in downtown Lincoln on Broadway Street, across the street for City Hall.

[Nila Smith]