Homebrew Competition brings in 64 entries vying for Best of the Best in 2016
Send a link to a friend Share
[June 09, 2016] LINCOLN - On Saturday at the Pigs & Swigs festival, Mother Nature had a menu of her own for the day. She began by serving up some light rain showers that left festival goers and participants seeking shelter for a short time. Then she blessed the day with heavy clouds, short bursts of sunshine, light breezes, and mild temperatures. Though some may have studied the sky and wondered what she would serve up next, most would have agreed that the breeze and the mild temperatures made for a perfect combination for a downtown festival.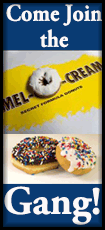 At the Pigs and Swigs, there were a couple of competitions going on Saturday afternoon. While those barbecuing were busy preparing for the KCBS, brewers were hoping their home made beer would be named the best of the best in this year's Home Brew Competition.

The Lincoln Knights of Columbus has perfected the Bags Tournament to a science, and on Saturday were on hand holding a bracket tournament the majority of the afternoon.

At the Homebrew Competition, 64 entries were made by 25 competitors. To assure a blind judging, each entry was given a number and stored away in a refrigeration unit near the judges tables. Beers were brought out one at a time for judges to sample and judge.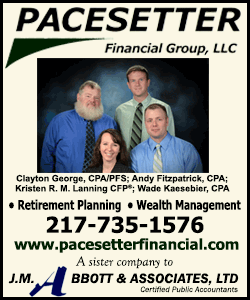 As the brews were judged, Michelle Bauer worked to tally scores, which were then posted on a board outside the judges tent. By 4 p.m. all 64 entries had been judged, and the top six scorers were circled on the board.

The judges were then asked to select the Best in Show from the top six.

The top six contenders were Brent Sperry of Petersburg, Tony Zurkammer of Lincoln, Mark Lewis of Bloomington, Todd Bauer of Lincoln, Roy Lee of Greenview, and Cole Claypool of Mason City. Each of the top six received a gold medal, presented by Bauer.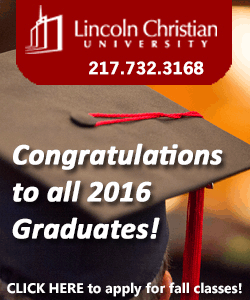 The top three were then named. The Second Runner-up was named first and was Mark Lewis of Bloomington. (Lewis was not present for the presentation.) The First Runner Up was Tony Zurkammer of Lincoln and the award for Best of Show went to Brent Sperry of Petersburg.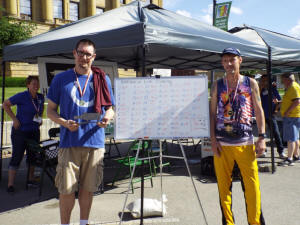 Brent Sperry and Tony Zurkammer stand at the scoreboard, Saturday evening after being named Best in Show and First Runner Up in the Pigs and Swigs Homebrew Competition.

At 4 p.m., guests started arriving for the food pairing event. Hill Top Catering provided a variety of barbecue style foods, which were paired up with craft beers provided by the Spirited Republic in Lincoln.

During the dinner event, the students from Lincoln College set up on the under the awning of By the Bean. With bass violin, guitar, and saxophone, the trio offered up-tempo music that lightly drifted across the dining tent.

Later in the evening, there would be live music on the stage at the corner of Broadway and Keokuk.
[Nila Smith]