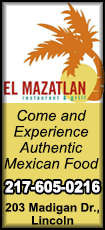 The annual event takes place at the Logan County Fairgrounds in the exhibition barn that is the second one from the south.

On Wednesday, Marilyn Wheat and Judy Conzo were busy tagging merchandise and getting everything organized. Conzo said that she believed this year was probably the largest to date in regard to donations for the sale. Throughout the barn, there are stacks of items that are bound to catch the eye of someone. Walking through, one will note a selection of handbags, a collection of jewelry, and some very nice pieces of glass. There are also kitchen items, such as some very nice Corning Ware baking dishes, and a silver-tone glass punch set.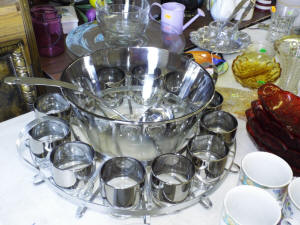 In the furniture area, on Wednesday, there were two nice couches, an antique wooden dining table, several chairs, and lots of other nice items. There is also a selection of kidsí toys and games, and golf clubs and exercise equipment.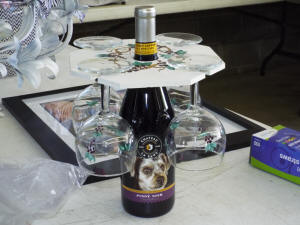 Wheat pointed out a couple of favorite items that she hopes will be quick sales. One is a cute wine bottle labeled Chateau La Paws. It features a sweet little dog on the label, but also comes with a handmade wine glass holder and four matching stemmed glasses.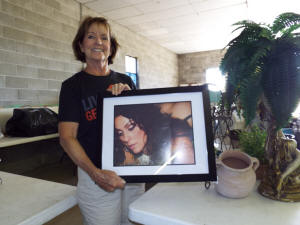 Another prized item in this yearís sale will be an autographed photo of Danielle Colby from American Pickers. Some may recall that Danielle was in Lincoln in April for the Logan County Spring Market. While in town, she signed a photo for the Humane Society, and Wheat is hopeful that someone will snatch it up early in the sale.
Again this year, the HSLC will hold a special preview night on Thursday from 5 p.m. to 7 p.m. This evening will be for the serious shoppers who want to snatch up the really good stuff ahead of time, and there will be plenty of good stuff to snatch! The HSLC will be asking for a suggested donation at the door of $5, on Thursday night only, though anyone who wishes to donate cash to the HSLC throughout the weekend would not be turned away!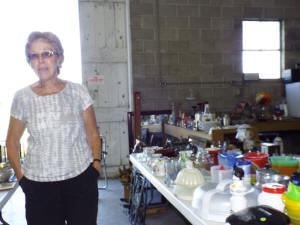 And, finally, for those who may have gone last year and passed up a bargain, donít look for it to be there still. Conzo explained that each year after the sale, what is left over is taken by local auctioneer Mike Maske. Maske will incorporate the leftover items into a future auction he holds and gives the proceeds back to the Humane Society. Conzo noted that the HSLC was very appreciative of Maske for doing this. It guarantees that the HSLC does not have to store the items left over, and it guarantees that every donation, large or small, does benefit the Humane Society.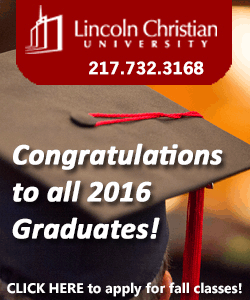 The HSLC garage sale will run from 8 a.m. to 4 p.m. on Friday and Saturday, and from 10 a.m. to 3 p.m. on Sunday. The best way to get into the fairground on those days would be through the south gate.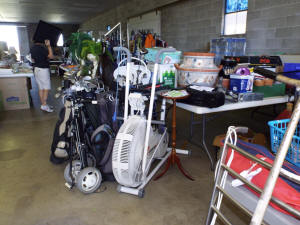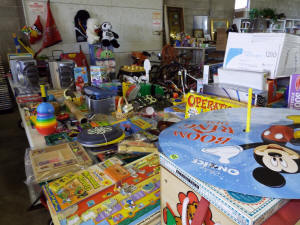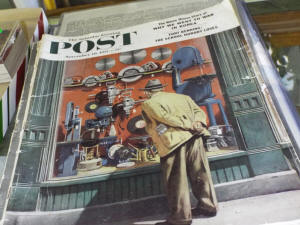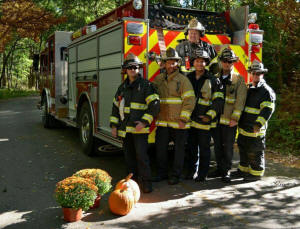 COMING SOON
Wheat and Conzo were also excited to talk about a new fundraiser they will be doing this year, a special 2017 calendar.
The calendar features local firefighters and other service organizations in Logan County. Each picture of the 14-month calendar (November 2016 through December 2017) will also feature a pet from the HSLC Animal Shelter.
The calendar was organized by Conzo and Wheat with Helene Paulis doing the photography. The theme of the calendar is ďAll those who serve.Ē Photos will include the fire departments from Lincoln, Mount Pulaski, Latham, Atlanta, Middletown, and Lincoln Rural Fire Protection District. It also be features photos of the city of Lincoln Police Department, Illinois State Police, Logan County EMA, Logan County Paramedics, and the National Oceanic and Atmospheric Administration (NOAA) in Lincoln. Another special feature will be the Lincoln Legion 263 Military Funeral Rights Guard.
The calendars will cost $20 each, with the profits from the sales going to support the daily operations of the Humane Society. Conzo said that the first order will be 275 calendars, but the society will place additional orders as needed.
[Nila Smith]