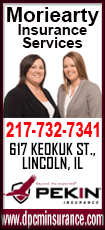 Rick Charron, the son of Arnie and Donna Charron, and Carol Boward, daughter of Jim and Pauline Boward, were united in marriage on June 5th, 1976 at the Lincoln Christian Church.

The couple have raised three children; Erica (Josh) Maynard of Lincoln, Austin (Heidi) Charron of Peoria, and Kyle (Brooked) Charron of Elkhart.
They have also enjoyed the blessing of eleven grandchildren; Evan, Ethan, Emery, and Eli Maynard, and Owne and Luke Charron, Kamrie Charron, Kalie Kuznik, Aaron Kuznik, Keoni Charron, and Braylei Charron.

Rick and Carol are the owners and operators of Charronís Auto Repair, a business Rick took over from his dad Arnie 35 yearís ago. In their spare time, Carol enjoys painting and crafting and Rickís hobby is working on his UMP Modified race care that his son Austin drives often at the local race track. The couple also enjoy taking annual trips to the Florida coastlines together.

Rick and Carolís children surprised them on May 28th with an anniversary celebration held at the Knights of Columbus Hall in Lincoln.
[Erica Maynard]