Beltran helps Yankees complete sweep of Angels
Send a link to a friend Share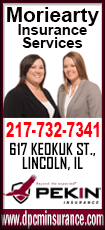 [June 10, 2016] NEW YORK -- The way things are going for Carlos Beltran, he could probably handle first base if asked to.
The New York Yankees might not need Beltran to get a first baseman's mitt, but they hope his bat continues delivering clutch hits.

Beltran capped an impressive four-game series against the Los Angeles Angels with a tiebreaking two-run double in a five-run fifth inning Thursday, but New York's 6-3 victory was marred by a hamstring injury to first baseman Chris Parmelee.

"Honestly, I feel good at the plate," Beltran said. "I want to contribute. I want to help the team but right now what is important is winning ballgames."

Beltran drove in 10 of New York's 29 runs. He hit a three-run home run Monday, added a two-run home run Tuesday and produced three runs Wednesday. According to the Elias Sports Bureau, Beltran is the first Yankee to have at least two RBIs in each game of a four-game series since Chris Chambliss Aug 12-14, 1977 against the Angels.

"I'm getting good pitches to hit and good thing that I'm not missing them," Beltran said. "

Beltran's latest hit snapped a 1-1 tie and would have cleared the bases if the ball did not hop over the right field wall after landing just fair. It occurred just shortly after Parmelee began New York's five-run inning and before Alex Rodriguez lifted a sacrifice fly and Brian McCann added an RBI double for a 5-1 lead.

"That's great. To have a guy in the middle lineup (hitting like that), we got a lot of chances to win games," shortstop Starlin Castro said.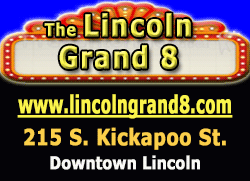 The Yankees (30-30) won their fourth in a row to reach .500 for the second time but in the seventh inning Parmelee became the fourth Yankee first baseman to get injured, joining Greg Bird (shoulder), Mark Teixeira (knee) and Dustin Ackley (shoulder).

"I haven't counted how many injuries we've had at first base," Beltran said. "But as a teammate you feel bad seeing one of the guys going down like that."

He was injured when he stretched to catch shortstop Didi Gregorius' throw for the final out of the seventh. Parmelee immediately fell to the ground, was helped off the field. The Yankees said he has an injured right hamstring and is likely headed for the disabled list.

"I don't know if I've ever seen that happen before," Yankees manager Joe Girardi said. "So I was a little bit in shock for me when I saw it."

After Parmelee was injured, Rodriguez added an RBI double in the eighth and Aroldis Chapman closed out New York's first four-game sweep over the Angels since 1994 by getting his 11th save.

C.J. Cron had an RBI single and Jeffry Marte hit a pinch hit two-run home run into the second deck in left field for the Angels. Los Angeles was swept for the fifth time this season, first time in a four-game series at New York since 1993 and lost for the ninth straight time at Yankee Stadium.

[to top of second column]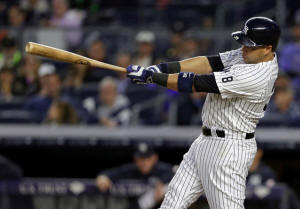 Yankees right fielder Carlos Beltran (36) hits a two-RBI double during the fifth inning against the Los Angeles Angels at Yankee Stadium. Mandatory Credit: Adam Hunger-USA TODAY Sports
"We're just, right now, not winning enough situations on the field," Angels manager Mike Scioscia said. "And there's some tangible reasons why and there's some things that we hope we can do better and that's what we're going to focus on."

New York's Ivan Nova allowed three runs and six hits in 6 1/3 innings. He exited to applause after allowing Marte's home run and Dellin Betances and Andrew Miller combined on 1 2/3 scoreless innings.

Angels right-hander Jhoulys Chacin allowed five runs and seven hits in 5 1/3 innings and Scoscia said he lost his release point in the fifth. Before the Yankees batted around in the fifth, Chacin had retired nine in a row and had a 1-0 lead on Cron's fourth-inning single.

"You're throwing well and then in one inning you just can't throw the ball where you want it. It might be that but you just have to make better pitches, especially in that situation with the game close," Chacin said. "I can't let it beat me right there. I have to make good pitches... I can't let that five run inning happen, especially with the bad series we had."

NOTES: The Angels activated RHP Cory Rasmus from the disabled list after he had been out since mid-May with a groin injury. ... According to the Elias Sports Bureau, 1B Chris Parmelee and OF Roger Maris are the only players to homer twice in their first start for the Yankees. ... New York LHP Chasen Shreve (left shoulder) threw 25 pitches in a pain-free bullpen session. ... SS Andrelton Simmons (thumb) had his rehab assignment moved to Triple-A Salt Lake. Manager Mike Scioscia said he will play at least two games there before the Angels decide if he's ready to return. ... Each player had t-shirts with the phrase "No Runs DMC" in reference to the Yankees' late-inning relief trio of RHP Dellin Betances, LHPs Andrew Miller and Aroldis Chapman. Asked what he thought of the shirts, manager Joe Girardi said, "I have not seen them. I was told what they were. It's kind of clever."
[© 2016 Thomson Reuters. All rights reserved.]
Copyright 2016 Reuters. All rights reserved. This material may not be published, broadcast, rewritten or redistributed.