Visitation: 4:00 p.m. to 7:00 p.m. Wednesday June 22 at Fricke-Calvert-Schrader, Mount Pulaski
Service: 10:00 a.m. Thursday June 23 at the funeral home.
Funeral home: Fricke-Calvert-Schrader, Mount Pulaski
Obituary
Jean Bobell, 87, of Lincoln, formerly of Elkhart, passed away at 1:10 a.m. on June 19, 2016 at the Christian Village in Lincoln.

Jean was born on February 25, 1929 in Elkhart; daughter of James and Emma Olson Anderson. She married John Bobell on July 31, 1948 in Elkhart. He preceded her in death on March 18, 1994.

Surviving Jean are her children; Linda Love of Decatur, Robert (Mary) Bobell of Towanda, Larry (Lori) Bobell of Lincoln, James (Sandy) Bobell of Elkhart, twelve grandchildren: Todd, Brian, Elizabeth, Jonathan, Michael, Rebecca, Ben, Matthew, Emily, Carley, Jamie, and Katey; fifteen great-grandchilden. She was preceded in death by her parents, two brothers: James and William Anderson. She was the last of her immediate family.

She worked at Lehn and Fink, was a bookkeeper at two fertilizer companies, and was a mail carrier in Elkhart for over 20 years. She enjoyed camping and baking. She entered many cakes in the Logan County Fair, and participated in numerous bake off contests. She most of all loved God, and was an active member of Elkhart Christian Church. She loved her family. She also started the first youth groups at Broadwell Christian Church.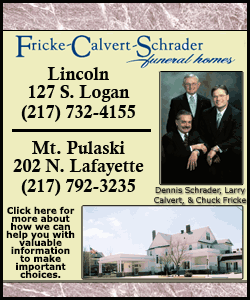 Services for Jean will be 10:00 a.m. Thursday June 23, 2016 at Fricke-Calvert-Schrader Funeral Home in Mt. Pulaski, with Mike Drake and Ryan Edgecombe officiating. Visitation will be from 4:00 p.m. to 7:00 p.m. Wednesday June 22, 2016 also at the funeral home. Burial at Steenbergen Cemetery will follow the service.

Memorials may be made to Elkhart Christian Church or The Christian Village.
Click here to send a note of condolence to the family of Jean Bobell