Graveside services: Saturday, June 25, 2016 at 10:00 a.m. in Macon County Memorial Park, Decatur
Memorial Service: Saturday, June 25, 2016 at 1:30 p.m. at The First United Methodist Church in Lincoln
Funeral home: Fricke-Calvert-Schrader, Lincoln
Obituary
Jane May, 88, of Lincoln passed away peacefully at 7:05 a.m. May 6, 2016 at Abraham Lincoln Memorial Hospital, Lincoln.

Jane was born September 6, 1927 in Decatur, the daughter of Paul and Hazel Edes Bangert. She married Deane May on July 31, 1949 in Decatur.

Jane retired from teaching in 1987 after 30 years, having taught for the last 19 years at Chester East Lincoln. She was a member of First United Methodist Church of Lincoln, UMW Ruth Circle, and Logan County Retired Teachers Association. Jane was a devoted volunteer at the Pink Shutter, Abraham Lincoln Memorial Hospital Auxiliary and Logan County Food pantry. She enjoyed knitting, baking, reading and playing pinochle.

Jane is survived by Deane, her husband of 66 years, daughters: Rebecca Weatherford of Iowa City, IA, Cynthia (Charles) Bickhaus of Denton, TX, Margaret (Brian) Ruble of Plano, TX; brother: Dale (Jane) Bangert of Amherst, NH and five grandchildren: Deanna Weatherford, St. Louis, MO; Claire (Derek) Ma, East Hanover, NJ; Lynde Weatherford, Iowa City; Cheryl Weatherford, Iowa City; and Nichole Ruble, Plano, TX. She was preceded in death by her parents, and she was joined in heaven by her son-in-law, Brian Ruble on May 10, 2016.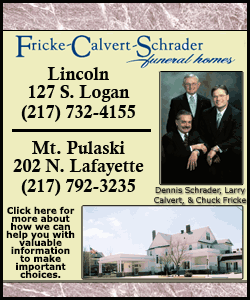 Graveside services will be held on Saturday, June 25, 2016 at 10:00 a.m in Macon County Memorial Park, Decatur. A Memorial Service for Jane will be held at The First United Methodist Church in Lincoln, on Saturday, June 25, 2016 at 1:30 p.m.

Memorial donations may be made in Jane's name to either, The Abraham Lincoln Memorial Hospital Auxiliary, Logan County Food Pantry, The Pink Shutter or First United Methodist Church UMW Missions.
Click here to send a note of condolence to the family of Jane May