Tigers score winning run on wild pitch
Send a link to a friend Share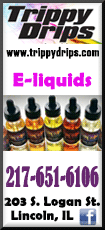 [June 24, 2016] DETROIT -- It was, in a word, wild.

The Detroit Tigers defeated Seattle 5-4 on Thursday, pulling the game out on a wild pitch in the bottom of the 10th inning after trying to set the Mariners up with a wild pickoff throw in the top half of the inning.
Steve Chisek's wild pitch to Ian Kinsler with the bases loaded and two outs in the 10th scored pinch-runner Cameron Maybin from third base to complete Detroit's sweep of a four-game series against Seattle.

"I was trying to get back on top of a two-seamer," Chisek (2-4) said of his game-ending wild pitch. "I tried to get on top of it. Guess I got too aggressive."

"Snakebit is one term you can use, I guess," Seattle manager Scott Servais said after the Mariners lost their 11th game in the last 14. "Tough one. About as tough as they get on a very disappointing road trip.

"We'll regroup. Get back home, get rid of the snake bites. That's about all we can do."

Steven Moya walked with one out and Maybin ran for him in the bottom of the 10th. Pinch-hitter Victor Martinez lined a single to left center and both runners advanced to third and second, respectively, when left fielder Seth Smith's throw to the infield eluded third baseman Kyle Seager for an error.

"Smitty threw the ball in, didn't hit the cutoff man," Servais said. "Obviously, they were not taking the base, they were not going. Hit the cutoff and we're in good shape there. Obviously, that didn't happen."

Jarrod Saltalamacchia was walked intentionally to load the bases and Andrew Romine struck out after missing a safety-squeeze attempt.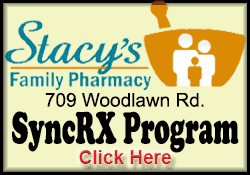 The first pitch to Kinsler from Cishek was away and in the dirt, with Maybin scoring when the ball eluded catcher Chris Ianetta.

Kyle Ryan (3-2) picked up his second win in as many games with one inning of scoreless relief, but it was wrapped in ugliness.

Shawn O'Malley led off with a single to left and went to third on Ryan's wild snap pickoff attempt to first. Ketel Marte grounded out to third with the infield in and O'Malley was caught in a rundown and tagged out by James McCann attempting to score on Smith's sharp ground ball to drawn-in Kinsler at second. Robinson Cano then struck out on three pitches.

"He created the problem, but he did an outstanding job of getting out of it," Detroit manager Brad Ausmus said of Ryan. "In this series since he got called back up, he's been outstanding for us."

The Mariners got all four of their runs on solo home runs, two by Nelson Cruz.

Cruz's second home run of the game and 18th of the season came off Bruce Rondon's first pitch in relief of Daniel Norris to open the sixth and tied the score 4-4.

Consecutive home runs by Ianetta, his seventh of the season, and Leonys Martin, his 11th, with one out in the fifth shaved Detroit's lead to 4-3.

McCann's two-run homer, his fifth home run of the season, chased emergency starter Vidal Nuno with one out in the fifth and gave the Tigers a 4-1 lead.

Nuno was pressed into duty when scheduled starter Adrian Sampson reported feeling right elbow discomfort just before he was to throw his first pitch.

[to top of second column]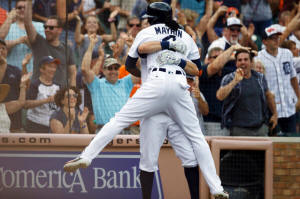 Tigers Cameron Maybin (4) is lifted up by second baseman Ian Kinsler (3) after he scores the winning run on a wild pitch by Seattle Mariners relief pitcher Steve Cishek (not pictured) in the 10th inning at Comerica Park. Detroit won 5-4. in ten innings. Mandatory Credit: Rick Osentoski-USA TODAY Sports
"Well, fortunately," Ausmus said, "we just saw him three days ago, so the guys that faced him, it's fresh in their minds."

Servais said, "If some guy walks off the mound, that's an issue there. We'll have to look at where we're at bullpen-wise and get some fresh arms in here. He felt the discomfort on his second-to-last or last warmup pitch he threw."

Sampson said, "I felt a little discomfort (on the) right side (of my right elbow). There was no pop or anything, just a little discomfort. I felt it was best if I just come out of the game."

The Mariners halved the Tigers' lead in the fourth on a home run by Cruz with two outs.

Norris, in his first start of the season for the Tigers, struck out five and didn't walk a batter, but three of the five hits against him were solo home runs.

Detroit took a 2-0 lead in the second on RBI doubles by Justin Upton and Moya.

The Tigers were going to employ several position shifts had the game gone into an 11th inning.

"I wanted him (Martinez) out (of the game), yeah. I didn't want him running," Ausmus said, "and the truth is, if the game stays tied, I needed a right fielder anyway, so (Mike) Aviles was going to right.

"With all the moves that were made -- pinch hitting for McCann, Maybin's pinch running for Moya, Maybin will go to center, Romine goes to first, Salty's going to catcher, rather, and now we need a right fielder cause Moya's out -- so Aviles runs for Victor."

NOTES: Detroit C Jarrod Saltalamacchia made his first start of the season at first base Thursday, and only his second in eight games at the position since 2007. ... Seattle 2B Robinson Cano left Thursday still needing one home run for 20, which would be his seventh season at that figure. ... Tigers RHP Warwick Saupold, out since June 1 with a right groin strain was to begin a rehabilitation assignment Thursday with Triple-A Toledo. He was to pitch in relief. ... The Mariners dipped below .500 for the first time since standing 8-9 on April 23.
[© 2016 Thomson Reuters. All rights reserved.]
Copyright 2016 Reuters. All rights reserved. This material may not be published, broadcast, rewritten or redistributed.