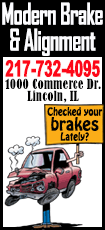 The nonprofit organization has two locations in Lincoln. MHCCI in Lincoln is located at Memorial Physician Services-Lincoln at 515 N. College Ave. and has been renamed Memorial Behavioral Health-Lincoln.

Logan-Mason Rehabilitation Center, 760 S. Postville Drive, which serves about 285 individuals with developmental and intellectual disabilities, has been renamed Memorial Behavioral Health-Lincoln Center for Developmental Rehabilitation.

Tracing its roots back to 1947, Mental Health Centers of Central Illinois became an affiliate of Memorial Health System in 1996. The nonprofit organization is one of seven affiliates of the health system.
"Behavioral health is essential to overall health and wellness. This name change signifies a shift of focus from illness to health, disability to possibility, and relapse management to reclaiming lives through recovery," said Jan Gambach, president of Memorial Behavioral Health and administrator of behavioral health for Memorial Health System. "Memorial Behavioral Health continues to grow to meet the needs of our community and, like those who came before us, we are committed to seeking the most innovative methods to drive our community toward a more healthy and whole vision of wellness."

Serving more than 9,000 individuals in Logan, Mason, Menard, Morgan, Sangamon and Scott counties, Memorial Behavioral Health is one of the largest providers of behavioral health services in central Illinois. Other clinics locations are in Springfield, Jacksonville, Petersburg and Chatham.

"Our name change will tie us more closely with the trusted name of Memorial Health System and will allow individuals to more easily find and come to us for services," Gambach said. "We hope our new name reinforces that the care we provide is recognized as an integrated service in the full continuum of care provided by Memorial Health System."
Memorial Behavioral Health employs more than 250 individuals, including board-certified psychiatrists, psychologists, licensed clinical social workers, licensed clinical professional counselors, case managers, registered and advanced practice nurses and employment specialists.

The behavioral health organization cares for children, adolescents and adults. Its services include crisis intervention, psychiatric and medical services, screening and assessment, outpatient therapy, recovery management, group education and support, employment services as well as residential care.

Memorial Behavioral Health also offers free and confidential online screening assessments for depression and anxiety at MemorialBehavioralHealth.org. About 850 assessments are taken each year.

"We provide hope to people with depression, anxiety, bipolar disorder, addiction, attention deficit hyperactivity disorder and other behavioral health issues," Gambach said.

For more information, visit MemorialBehavioralHealth.org.
[Michael Leathers, Memorial Health Systems]