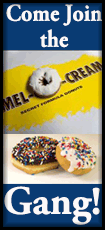 The GI this year is a 30-minute cutting of the new hit Broadway musical comedy "Something Rotten!," starring Braden Tanner, Colton Clark, Claire Conrady, McKenzie Landers, Lena Stapleton, Lydia Spellman, Aleaya Turley, Shannon Rahn, Erin Gowin, and Bekah Harpin.

"This is my first sectional championship in nearly 18 years of coaching and directing, and I am beyond thrilled," said co-director Jennifer Keith. "Mine too," said co-director and former LCHS competitor Wyatt Phillis.

Together, Keith and Phillis write and cut the script, design the set and blocking, coach the students and drill for perfection as many of the moves are synchronized.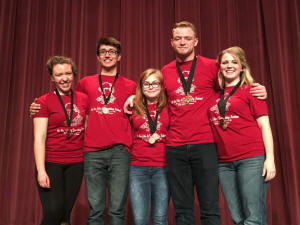 All-Sectional Cast members from LCHS pose on the Belleville stage with their medals. All-Sectional cast members must have at least three of five judges vote them as outstanding. They are: Claire Conrady, Colton Clark, Lena Stapleton, Braden Tanner and McKenzie Landers. Stapleton, Tanner and Landers were selected for both of their performances Saturday as All-Sectional.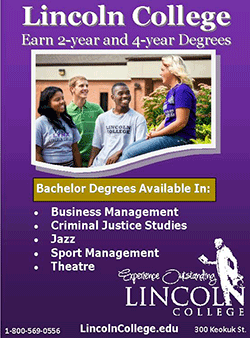 "Group Interp is a theatrical production like no other - it has on and off-stage focus, times where characters aren't looking at each other but rather at a point on the wall, music, and more - but it's heart is the same: tell a great story," Keith said.


Students who receive votes from at least three of the five judges are selected to the All-Sectional cast, compiled of members from all six group interps competing. Tanner and Conrady received all five judges' votes and Landers, Stapleton and Clark received at least three to make the special honor cast.

The LCHS Drama production of "As You Like It" by William Shakespeare, directed by Betsy Buttell, placed 5th. Tanner, Landers and Stapleton were on the Drama All-Sectional cast as well.

The Group Interp will compete April 1-2 at University of Illinois at Springfield at the IHSA State competition. A specifi time will be determined in the next few days.
[Jennifer Keith]