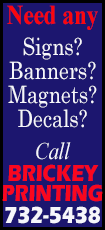 The award was presented by Richard Hamilton, Partner Relations Coordinator for Saving Sight's Springfield office. During the presentation, Hamilton made the following comments.

"In my role, I have the great privilege of working with the staff at Abraham Lincoln Memorial Hospital to help facilitate eye donation for donors at the hospital.

"In 2015, Saving Sight established the Excellence in Eye Donation Award to honor outstanding partners. It's an award that will be given to less than 15% of our 220 partner hospitals this year, and I am thrilled to be here today to present the staff of Abraham Lincoln Memorial Hospital with its first Excellence in Eye Donation Award.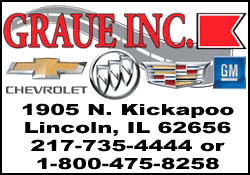 "Last year, with the generosity of donors and their loved ones, eight individuals every day received a cornea transplant through tissue provided by Saving Sight. Eight people every day escaped a lifetime of blindness. Parents were enabled to continue watching their children grow. Men and women returned to lost hobbies or the independent ways of living they once knew. The gift of sight is an incredible one donors and their families give, and hospital staff play a significant role in helping to honor those wishes to make eye donation possible.

"The staff at Abraham Lincoln Memorial Hospital have truly been exceptional partners in our mission to change lives by saving sight.

"(Their) Work helped realize an 82 percent consent rate for donations last year. In total, 13 donors from the hospital made the heroic decision to give the gift of sight in 2015 to help others suffering from severe vision loss. As a result, 23 transplant recipients can now see better and resume their lives with healthy vision.

"In recognition of Abraham Lincoln Memorial Hospital's outstanding partnership with Saving Sight to facilitate eye donation, it is my great privilege to present the entire staff at Abraham Lincoln Memorial Hospital, with Saving Sight's Excellence in Eye Donation Award."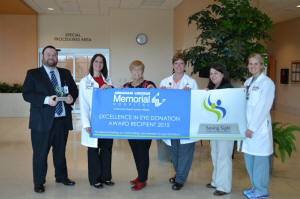 Staff on hand to accept the award were Emergency Department Manager, Tara Morris; Director of Nursing, Jeanne Dennis; Nursing Operations Manager, Val Cooper; Acute Care Manager, Michelle Green; and Perioperative Services Manager, Lexanne Darwent.
Hospitals in Saving Sight's service area of Missouri, Kansas and Illinois that achieved an eye donation consent rate exceeding 45 percent with at least ten donors during the 2015 calendar year are being awarded the honor this year. Fewer than 15 percent of Saving Sight's partner hospitals will receive the Excellence in Eye Donation Award in this year.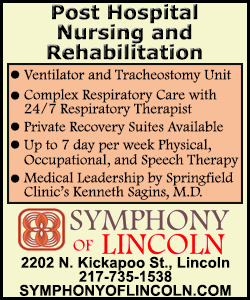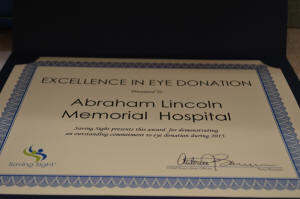 "We applaud Abraham Lincoln Memorial Hospital for empowering others to give the gift of sight and for striving to create a culture that supports donation," said Tony Bavuso, CEO of Saving Sight. "Thanks to the generosity of eye donors and their families, and the staff at Abraham Lincoln Memorial Hospital, more people than ever were able to receive a sight-saving cornea transplant last year."

Each year around 48,000 individuals in the United States require a cornea transplant to restore vision that has been lost due to disease, disorder or injury. With the help of hospital partners like Abraham Lincoln Memorial Hospital, Saving Sight provided corneas for more than 3,000 of those transplant surgeries in 2015. For more information on becoming an eye, organ and tissue donor, please visit donatelife.net.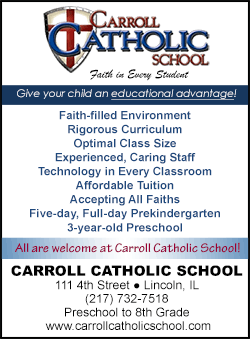 About Saving Sight

Saving Sight is a 501(c)(3) nonprofit organization with a mission to change lives by saving sight. Founded in Columbia, Mo. in 1960, the organization introduced eye donation and the gift of sight to Missouri. Today, Saving Sight operates community healthy vision programs that serve more than 100,000 people worldwide each year with offices located in Missouri, Kansas, and central Illinois. For more information, please visit saving-sight.org.

About Abraham Lincoln Memorial Hospital

Abraham Lincoln Memorial Hospital is a 25-bed critical access hospital located at 200 Stahlhut Drive in Lincoln, Illinois. ALMH is an affiliate of Memorial Health System. For more information, please visit ALMH.org
[Information recieved from Angela Stoltzenburg, ALMH and Nicole Flood, Saving Sight]