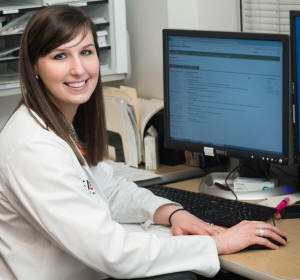 Hannah Sheley to begin dream career at Abraham Lincoln Memorial Hospital
Sheley and the hospital benefit from ALMH Foundation Scholarship program

Send a link to a friend Share
[March 19, 2016] LINCOLN - You know the feeling. It's a mix of nervous butterflies combined with budding excitement that only builds the closer you get to starting something new. And for Hannah Sheley, a soon-to-be pharmacy graduate from Lincoln, it represents the starting block of her chosen career path.
"My mom is a nurse, and my grandma worked at ALMH for many years," she said. "The healthcare field has always been in the back of my mind. And when I worked at Walgreens as a tech years ago, I realized I didn't want to say, 'let me talk to the pharmacist' anymore. I wanted to be the pharmacist."

Hannah will hit the ground running when she starts work in May. She'll be the first pharmacist at ALMH stationed in the emergency room. Part of a growing trend at larger hospitals, the new position helps ensure ALMH patients receive the safest and most effective medication.

"I'm just ready to be in the field I love and practicing what I went to school to do," Hannah said.



For the past six years, Hannah has attended Southern Illinois University Edwardsville with the support of a healthcare careers scholarship from the ALMH Foundation. Scholarships are awarded to selected applicants in exchange for a work commitment.

"You accrue a lot of debt over six years," Hannah said. "And this last year has been extremely expensive with all the costs of finishing school adding up. I'm very thankful for the scholarship program. It's helped me tremendously."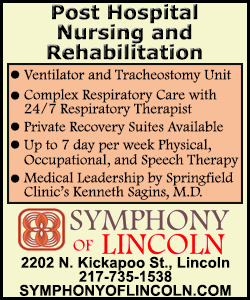 Since 2013, the Foundation has awarded more than $220,000 in scholarships to local students pursuing careers in healthcare. It's funded by generous community supporters who feel it's important for local residents to receive the best education possible, which in turn allows them to deliver the best patient care right here at home.
For Hannah, it was an easy decision.

"I was raised in Lincoln," she said. "I love the people, the location and ALMH. So I see it as a win-win. It's really worked out for me, and I'm ready to get to work."

Detailed scholarship guidelines and application forms are available for download at ALMH.org. Completed applications are due April 1, 2016 by 4pm. For more information, contact Sarah Helm, ALMH Foundation director at 217-605-5008.
[Angela Stoltzenburg]