Polar Plunge a Chilly Willie Penguin party

Send a link to a friend Share
[March 21, 2016] LINCOLN - On Saturday, volunteers and divers gathered for the Annual Polar Plunge at Lincoln Lakes. Each year the Plunge is held to raise money for the Special Olympics. There were a total of 68 volunteers working on the Plunge this year. An amazing number of 157 brave, brave people jumped into 45-degree water.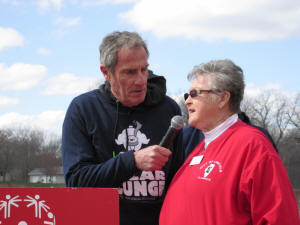 Before anyone took the plunge, Lincoln Mayor Marty Neitzel said a few words on the event. Neitzel thanked the city of Lincoln and Logan County for holding the Polar Plunge. Neitzel said this is a great thing for the area and a great cause to support.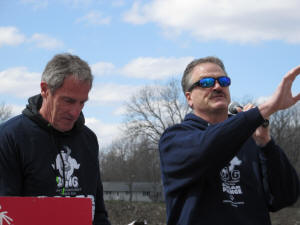 Lincoln College President Dr. David Gerlach also spoke briefly. Gerlach said the college was glad to part of this event, and he praised the students who had come out to plunge into the water and those who came to help.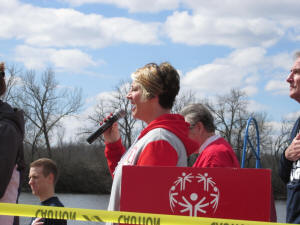 Then Leslie Bennett sang the National Anthem.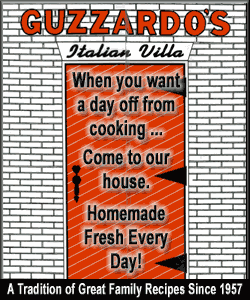 The Plungers were launched team by team with much screeching, hooting and hollering by those entering the water, followed by cheers of comradery and laughter as they exited.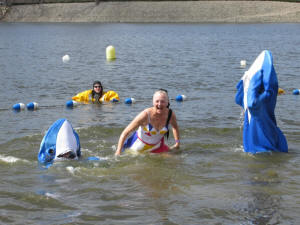 Team members coordinated in costumes and outfits of all imagination; part of what makes the event so much fun. This year there were a couple of sharks seen in the water and that didnít even dissuade anyone from launching themselves into the yet winter frigid waters.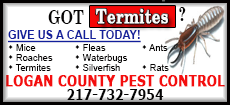 Following the Plunge, participants returned to the Knights of Columbus Hall for more laughs, awards and a warm lunch.

[Derek Hurley]