Young Professionals host Home-Buying Seminar
Free seminar focusing on topics relevant to the purchase of a home

Send a link to a friend Share
[March 27, 2016] LINCOLN - The Young Professionals Networks of Logan County will offer a free seminar on the home-buying process on March 30, 2016. The seminar, open to the public, will provide an in-depth look at issues and challenges faced by home buyers.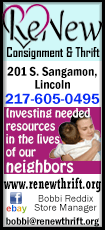 The speakers will include: Blinn Bates of Woods & Bates, Seth Goodman of ME Realty, Michelle Bauer of Country Financial, and Darelyn Schmidt of Regions Bank.

The seminar will be held at 6:00 p.m. in the Steinfort Room at Abraham Lincoln Memorial Hospital, 200 Stalhut Drive in Lincoln.

Participation is limited, so please indicate your anticipated attendance on the YPN Facebook Page (www.facebook.com/YPNLC) or call the Chamber at 217-735-2385.

The seminar is hosted by the Young Professionals Network of Logan County in conjunction with the presentation speakers. The Young Professionals Network of Logan County is comprised of individuals in their 20s, 30s and early 40s who work in Lincoln and Logan County. The purpose of this group is to help young professionals connect with one another, build strong relationships, grow together and develop ties to the community.
[Jennifer Kirby, YPN]