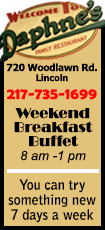 According to 30 year averaged data, temperatures across the entire country averaged at five degrees Fahrenheit higher. For Illinois, the average temperature from December to Feb. 21 ranged four to six degrees higher than normal.

This is a stark contrast to recent years, in which the winters were marked by harsh blizzards and frequent negative wind chill readings. As an example, the lowest temperature reading observed in January in Lincoln in 2016 was -2˚ Fahrenheit. In January of 2015, that figure was -8˚, and in 2014 it was -14˚.

An increase in winter temperatures is often attributed to the weather phenomenon known as El Niño. El Niño and its "sister" phenomenon, La Niña, are two parts of a naturally occurring weather pattern affecting seasonal temperatures and precipitation that stems from the Pacific Ocean. This pattern shifts every three to seven years on average with El Niño expected to come to an end in 2016.


According to the NOAA, El Niño can be defined as "A warming of the ocean surface, or above-average sea surface temperatures, in the central and eastern tropical Pacific Ocean." By contrast, La Niña is "a cooling of the ocean surface, or below-average sea surface temperatures in the central and eastern tropical Pacific Ocean."

According to the NOAA's recent predictions on El Niño (as of February 2016), it is likely that El Niño will transition into La Niña in the fall of this year. But what will that mean for agriculture?

Farmers in central Illinois can easily recall that a wet and relatively warm winter was observed between 2011 and 2012. Also occurring in 2012 was a very dry summer, and most of the region found itself in a state of drought. This is usually what happens with El Niño; a wet winter, followed by a mild spring and a dry summer.

Will we see a similar pattern in 2016?

According to Jim Angel, a climatologist at the University of Illinois, this winter did not fit the typical El Niño weather pattern, such as the weather seen in particularly strong episodes in 1983 or 1998. As of February 22nd, in the United States temperatures east of the Rocky Mountains were higher than average over the winter season. This is typical of El Niño. However, something was missing.

According to Angel, "Noticeably absent have been the cooler-than-average temperatures often found in the Southeast in past major El Niño events." Typically, the southeast region of the country experiences cooler temperatures during El Niño. During this past winter, those lower temperatures were not experienced.

Furthermore, past El Niño events typically result in increased dryness around the Great Lakes region. For this winter, precipitation in that area was between 14 and 21 inches higher precipitation than in past El Niño events. This is different from the aforementioned events in 1983 and 1998, although all three seasons shared drier conditions in the southern United States.

So what does this all mean for agriculture in central Illinois? At the moment, it is simply too difficult to accurately predict anything concerning El Niño. Every part of a weather phenomenon like El Niño or La Niña is crucial to understanding it, but this year, typical parts have been missing.

[to top of second column]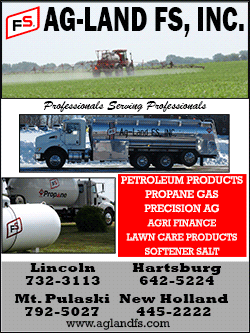 Angel says, "No two El Niño events are alike – they each have their own personality. Unfortunately, this can limit our ability to forecast what will happen during an event and what will happen after an event passes."

Current weather predictions by the National Weather Service indicate that over the next three months, areas in the Southern and Central portions of the state may receive less rain than normal.

In preparing for such an outcome, it is important to look at current soil moisture levels. According to the February USDA report on Illinois Crop Progress and Conditions, central Illinois soil moisture is currently in good standing. Only one percent of central Illinois soil is considered to be short on moisture levels; six percent is at a surplus; and the remaining 93 percent is considered adequate.

While current soil moisture levels are looking good, the prediction of less rain in the near future may be troubling for agriculture.

It is certainly possible to point to El Niño and its transition as the cause, it is ultimately too difficult to say what will happen. When it comes to weather, every variable is important. We have yet to see what effect this pattern and its unique appearance will have on Illinois agriculture.

References

Angel, Jim. "Winter Warmer and Wetter than Average for Most of U.S." State Climatologist Office for Illinois. Feb. 22, 2016.

Irwin, S., and D. Good. "Forming Expectations for the 2016 U.S. Average Corn Yield: What About El Niño?" farmdoc daily (6):41, Department of Agricultural and Consumer Economics, University of Illinois at Urbana-Champaign, March 2, 2016.

http://www.nass.usda.gov/Statistics_by_State/I llinois/Publications/Crop_Progress_&_Condition /20160229-IL_Crop_Progress.pdf