Visitation: None
Service: A celebration of life for Betty will be held at 11:00 a.m. Thursday March 31, 2016 at Jefferson Street Christian Church
Funeral home: Fricke-Calvert-Schrader, Lincoln
Obituary
Betty J. Washam, 87, of Lincoln passed away at 12:40 a.m. on Easter Sunday, March 27, 2016 at Abraham Lincoln Memorial Hospital, Lincoln.

Betty was born July 15, 1928 in Lincoln, IL; the daughter of William and Henrietta Rodgers Coombs. She married Robert J. Washam on September 23, 1949 in Lincoln, IL. He survives in Lincoln.

Also surviving are her children: Robert J. "Bucky" (JoAnn) Washam of Lincoln, Randy Washam of Lincoln, Regina (Dan) Shaffer of Emden, Rick (Jodi) Washam of Broadwell, three sisters: Gloria (Richard) Craig of Beason, Joan Heidbreder of Lincoln, Joyce Bailey of Lincoln, three brothers: Gene Coombs of California; George (Dorothy) Coombs of Florida; Robert (Maxine) Coombs; eleven grandchildren: Jason (Cara) Washam; Brandy (Curtis) Sutterfield; Kate Rutherford; Rachel (Nick) Mayer; Patrick Washam; Kevin Washam; Matthew (Amy) Chapman; Nikki Chapman; Kelsey (Erynn) Washam-Coit; Kayla Washam; Kollin Washam; thirteen great grandchildren: Drew, Abby, Ethan, Hadley, Jax, Kirsten, Drew, Layla, McClane, Parker, Maggie, Jayce, and Jersi. Betty was preceded in death by her parents, two brothers: John Coombs and Earl Coombs, and one sister: Frances Coombs.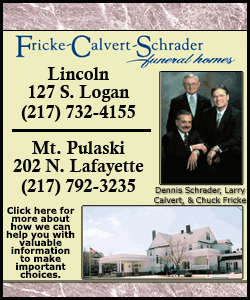 Betty was a member of the First Baptist Church of Lincoln. She loved bowling, camping, country/western music, soap operas, baking, and a good practical joke.

A celebration of life for Betty will be held at 11:00 a.m. Thursday March 31, 2016 at Jefferson Street Christian Church with Ryan Edgecombe and Rev. Robert Williams officiating. There will be no visitation. Burial at Zion Cemetery will be held at a later date. In lieu of flowers, the family requests memorials to be made to the First Baptist Church of Lincoln. Services are entrusted Fricke-Calvert-Schrader Funeral Home in Lincoln.
Click here to send a note of condolence to the family of Betty J. Washam