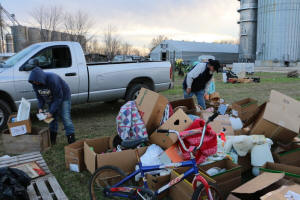 Lake Fork Community Sale best one yet
Send a link to a friend Share
[March 30, 2016] LINCOLN - Leslie "Foxie" Hild and his daughter, Lacey, rummage through what is left as the sun sets on the Lake Fork Community Sale Saturday evening, March 26, 2016. According to spokesperson, Sue Stewart, this appears to have been the largest and most successful sale in the organization's 43-year-history.
Earlier in the day the kitchen of the Community Center served over 700 children and adult meals that featured delicious sausage, pancakes and biscuits and gravy. Not included in that count was the many sausage sandwiches and other items such as corn dogs that were served outside to the avid buyers.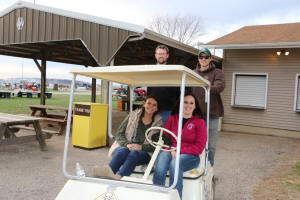 Volunteers Erika and Nathan Applegate and the sister-brother duo of Emma and Will Stewart spent the day Saturday helping out at the Lake Fork Community Sale.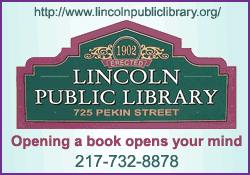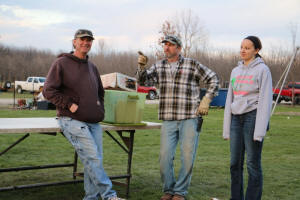 Volunteer Mike Reidle cannot help but smile as the day comes to end at the Lake Fork Community Sale. John Stewart seems to point out there is more work to be done while his daughter Paige has seen enough action for the day.

There was also a meat and cheese sale that took place beginning in the week prior to the auction and included baked goods the day of the sale.

On Saturday, Stewart estimated over 1600 buyer numbers were passed out. The first 400 she mentioned were reserved for sellers and approximately 1200-1300 numbers were issued to prospective buyers.

[to top of second column]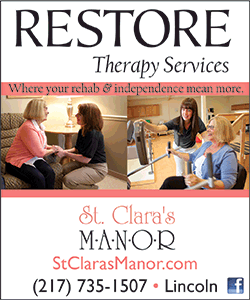 The perfect weather attributed to the record day this year, although as seen in the past the weather truly does not deter the diehard Lake Fork Community Center fans.
At the end of the long day, that was still not over as the sun went down for Stewart and her staff, the long-time volunteer said of the successful event, "The weather was good. Everybody was patient.

We sold a lot of things." As the volunteers tallied up the day, the number of items sold reached 3,468.

Seven auctioneers were all running at the same time the entire day on Saturday. In addition, there were around 60 people that volunteered their time and efforts to make the day a success. Those volunteers now include a fourth generation of helpers that donate their youthful energy to help preserve the beloved old Lake Fork school that was turned into a gathering place for the little unincorporated community many years ago.

Finally, Stewart summed up the event, exhausted yet pleased, by saying, "It's a community effort. Everybody has a department and everybody works hard at it."

[Teena Lowery]