Atlanta Public Library and city of Atlanta to host Scotts MLB "Pitch, Hit & Run Contest"
Send a link to a friend Share
[March 31, 2016] ATLANTA - For the second year in a row, the City of Atlanta and the Atlanta Public Library will team up to host Scotts Major League Baseball's annual "Pitch, Hit & Run" contest for boys and girls ages 7-14.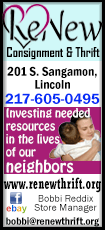 The event will be held at the Atlanta Sports Complex (field 1) on April 23 at 6:00pm. The event is free, but advance registration is encouraged. Registration forms are available at the Atlanta Public Library or by sending an email request to apldinformation@gmail.com. Call 217-648-2112 for more information.

Boys and girls compete in separate categories in the following age groups: ages 7-8; ages 9-10; ages 11-12; and ages 13-14. Age is determined as of July 17, 2016.

Participants compete in each of three categories. Pitching tests the ability to throw strikes to a designated "strike zone" target using any throwing method; for the hitting competition, participants hit a ball off a stationary tee and compete on the basis of distance and accuracy; runners are timed starting from second base, touching third base and then touching home plate.
The first level of competition is local. Champions at the local level advance to a sectional competition, and all-around sectionals at the sectional level become eligible to compete in Major League ballparks. Winners in our region compete at Wrigley Field in Chicago. Overall winners then have the opportunity to appear at the 2016 MLB All-Star Week.
[Catherine Maciariello]