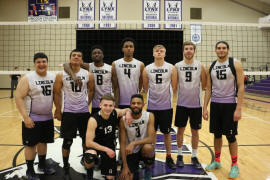 Lincoln College recognizes the sophomore class of the Men's Volleyball Team

Send a link to a friend Share
[March 31, 2016] LINCOLN - The sophomore class of the Lincoln College Menís Volleyball Team was recognized Tuesday night as they played their final home match of the season. Front Row: Alec Esparza and Manuel Benitez. Back Row: Andrew Martinez, Josue Ramirez, Brandon Anderson, Michael Wesley, Lukas Kupiec, Adam Krzos, and Alex Robles.
The Lincoln College Menís Volleyball Team won over North Central College in three exciting games, 26-24, 32-30 and 26-24.

The Lynx program is just in its second year at Lincoln College and the men are definitely a fun group to watch on the court.

The games featured some pretty monstrous kills from both teams that drew thunderous applause from the fans. One of the matches even featured a cartwheel by Robles after he had dived after a ball and was attempting to get back on his feet, all of which he completed very successfully.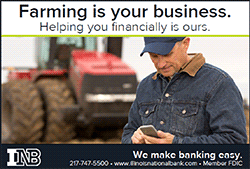 Head Coach Mark Tippett was overall pleased with the victory despite his team missing several serves. ďAs far as tonight, we missed a lot of serves that kept them (North Central) in it. Thatís frustrating this time of year as a coach. They served worse than we did which was hard to do tonight. If we had not missed so many serves we would have won a little more comfortably than we did in the three sets. Overall, we played a solid match tonight and our sophomores all contributed, which is a great way to end of up their career here. Itís nice to get a three set win for them to go out on.Ē

Coach Tippett was also pleased with the success of the program this year, explaining how the men compete at both a combined level and a club level. He explained the difference, ďOur record as a combined team is now 4-7. Those are all matches against four-year varsity teams. When we play as a combined team, these single matches like this, typically we are going up against the other teams best varsity teams. Our record for club is different because we separate into two teams and we play other university club teams. Our record there is 15-8.Ē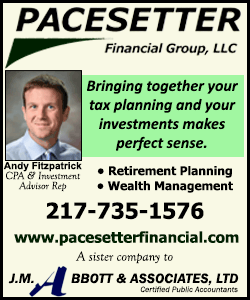 The season is not quite over for the men either. They will be heading to Kentucky for a three-day club tournament. "We are going to the national tournament this year for club,Ē said Tippett. "Club Nationals is in Louisville next week. We are in Division II which will have 48 teams total from all over the country. We took second in our conference so I believe we will get a pretty high seed for that tournament. We were the highest finish of any Division II school in our conference for club. The team that beat us was Division I - University of Missouriís A Team - thatís the only team that beat us in club.Ē

Good luck next week to the men at Club Nationals!

[Teena Lowery]