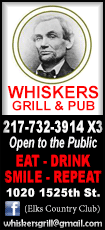 In addition to the many departmental honors and awards handed out, several scholarships were also presented making the evening even more outstanding.

Mount Pulaski High School Principal Mr. Terry Morgan and Honors Night Coordinator Melanie Hinson kept the events of the evening running smoothly and quickly. Each teacher was introduced and allowed time for a short speech and presentation.

Several area community and business leaders were also in attendance to present scholarships. It is worth noting a few of the highlights from the two-hour event. Members of the community who have dedicated their time and money by investing in the community's youth gave speeches honoring scholarship recipients. In fact, the kindness and generosity of those folks who strongly support the future education of these students appeared to be quite overwhelming.

Perhaps the most overwhelming was the Iva Mae Blaum Trust Scholarship that was awarded to Kamryn Aylesworth by Gail Nunnery of the State Bank of Lincoln. Aylesworth is the first recipient of the scholarship that was open to any graduating senior in Logan County who wishes to pursue a bachelor's degree in Nursing or Agriculture.

Other highlights of the evening included a speech by Mr. Bo Girn of the local G-Mart. Girn spoke of his parents, who immigrated to this country from India and who had very little education. He said that his parents were very disciplined people and because of their encouragement, he was a big believer in education himself. Girn presented Lauren Anderson with the G-Mart Scholarship for Business.
Mrs. Barbara Maske also took the podium to award scholarships on behalf of the Zonta Club of Lincoln and another scholarship in memory of JoEllen Maske.

Kamryn Aylesworth and Elizabeth Siebert were each awarded a Zonta Women's Career Scholarship.
Maske, a teacher in the Mount Pulaski School District, mentioned that "the committee, past and present, is always impressed with our Mount Pulaski students."

Maske also gave a very nice speech about her late mother-in-law, JoEllen, who was a beloved English teacher in the Mount Pulaski School District.

Elizabeth Siebert, who plans to pursue a degree in education, was awarded the first JoEllen Maske Education Scholarship.

It was nice to see so many new scholarships among the list. Even Hinson commented that as she had looked at some old honors programs, the number of community scholarships has doubled in recent years. It's worth repeating that the kindness and generosity of those folks who strongly support the future education of these students is overwhelming. Many of these students who were rewarded for their hard work and dedication to academics were also simply shocked and surprised to hear their names called.

As you scroll through the list of students recognized Tuesday night, you will see that several names appear on the list multiple times. Therefore, the announcement of Brian Batchelder as Senior of the Year was not a complete shock, as that young man made trip after trip to the podium. Overheard following the ceremony was "he nearly swept every senior category." Batchelder plans to attend Southern Illinois University in Edwardsville.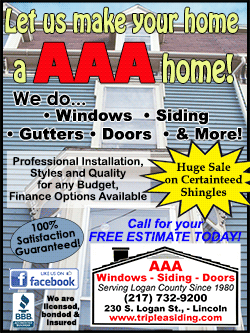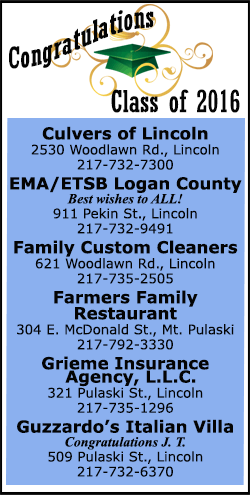 Finally, a light-hearted moment of the evening came when Mrs. Mary Hamilton took to the podium to present the Mount Pulaski Women in Business Scholarship. Hamilton, a long-time bus driver in the school district, mentioned that she had attended events in the gymnasium for over 30 years and looking in the crowd for Superintendent Todd Hamm, she said "I see the air-conditioning is still not fixed." That drew laughter from the crowd and then applause, as once again a familiar name was called and Kamryn Aylesworth was presented with that award.

Congratulations to all of the winners!

[Teena Lowery]
Well worth noting:

As Gail Nunnery gave a speech about the Iva Mae Blaum Trust Scholarship I was intrigued. First, I knew Iva Mae as the little lady who drove a convertible and lived in Mayfair. In fact, I delivered many catalogs to her mail slot throughout the years. Secondly, I had no idea of Iva Mae's past but I was about to learn. She was a native of Middletown who married a farmer named Arthur from Emden.

As I searched her obituary from last August, I learned she was a nurse at Abraham Lincoln Memorial Hospital for 46 years and was even the Director of Nursing at ALMH upon her retirement in 1985.

Blaum passed away in 2015 at the age of 95 but what a legacy she leaves.

Kamryn Aylesworth is the first recipient of this scholarship and I cannot help but think that Iva Mae is smiling down from Heaven at this perfect choice. I also cannot help but think how this generous gift will change the life of this young woman and give her an opportunity that I know she is more than ready to meet with dedication and hard work. Just like I picture Iva Mae's life.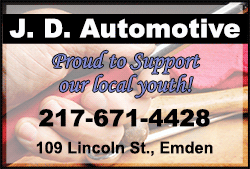 The following was received from Gail Nunnery via email:

The Iva Mae Blaum Trust is a testamentary trust. The trust arose upon Iva Mae's death and is specified in her Last Will and Testament.
Iva Mae was a graduate of Deaconess Hospital of Lincoln and retired from Abraham Lincoln Memorial Hospital in 1985 after 46 years of service. She was the supervisor of medical surgery on the first floor of the Deaconess Hospital and the 4th floor of Abraham Lincoln Memorial Hospital. Iva Mae was also the Director of Nursing at Abraham Lincoln Memorial Hospital from 1958 to 1985. Her husband, Arthur, was a Logan County farmer.

The Iva Mae Blaum Trust scholarship is given in memory of Arthur B. Blaum and Iva Mae Blaum and for the benefit of Logan County residents who are graduating high school seniors who declare and pursue bachelor degrees in agriculture or nursing.

The scholarship award is to be available for each year up to four years total if the recipient continues to pursue a bachelors degree in agriculture or nursing and carries a total cumulative 'B' average or better at the end of each academic year. The yearly "award amount" is equivalent to the cost of tuition for the upcoming school year for a full academic load at the University of Illinois, Champaign campus, but it will be adjusted if it will be more than the recipient will require for the cost of tuition, books, fees and room and board at the school the recipient will attend and considering other scholarships and awards the recipient receives.

This is the first year the scholarship has been awarded, and as you know the first recipient is Kamryn Aylesworth.

Ironically, the scholarship was awarded on what would have been Iva Mae's 96th birthday, and today would have been Arthur's 100th birthday.