The day began with a ribbon cutting ceremony hosted by the Lincoln/Logan County Chamber of Commerce. Logan County Alliance CEO and President Cathy Wilhite welcomed the large group on behalf of the Chamber and offered a few comments of appreciation to the Abraham Lincoln Memorial Hospital and the ALMH Market for their new offering in the community.

Wilhite acknowledged the presence of Lincoln Mayor Marty Neitzel and invited her to say a few words. Neitzel said she was pleased to see the Market and that the city fully supported the efforts of the Abraham Lincoln Memorial Hospital Foundation in providing a market that is designed to help promote a healthier lifestyle in Logan County.

Dolan Dalpoas, Chief Administrator at ALMH also spoke, saying he was pleased that the Foundation had successfully brought this market to the public. He noted that the Market shares the same goals and values as the hospital in striving to promote wellbeing and good health among the citizens of the community.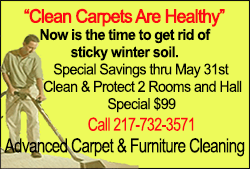 The Chamber ribbon was then spread across the entry way with Wilhite on the far left; Angela Stoltzenburg, Sarah Helm, Dolan Dalpoas, Lynne Metz, all from ALMH; Market Manager Nicole Cox, and Dave Irwin representing the Logan County Fair Board, gathering for the cut. After a brief countdown, Dalpoas snipped the ribbon. Cox then told the shoppers that each Saturday the Market will officially open with the ringing of the cowbell. With that, the bell rang, and shoppers went pouring inside to check out all the wares.

Included in the many offerings at the Market were some fun but healthy activities as well as opportunities to get free screenings for health issues such as blood sugar levels and blood pressure. Another booth encouraged everyone to take a healthy selfie, against a backdrop that said "Look, mom! I'm eating my vegetables!"

PrairieErth Farms from nearby Atlanta was on hand with a large selection of locally grown vegetables. Other produce operators on Saturday included Legacy of the Land, a cooperative of multiple farms in a three-county area just north of Logan County, and Crump Farms of Carlock. Also on hand was Ioerger Farms of Minonk selling plants, hanging baskets, and spring vegies such as asparagus.

For those who were looking for something to eat or drink at the market while they shopped, there was no shortage of opportunities. By the Bean, a very popular downtown coffeehouse was set up selling beans to take home, but also drinks to enjoy while shopping. Next to By the Bean was a new business that up until Saturday was not yet known, but something to look forward to in the downtown area in the next few months. Bean Sprouts was on hand cooking up breakfast for hungry shoppers.

Bean Sprouts will open hopefully by the fall as a Farm-to-Table style cafe. The cafe will focus on offering freshly grown foods, from local suppliers. They will also offer healthy choices among the items on their menu such as organically grown products, and Vegetarian/Vegan specials. The Bean Sprout kitchen will open soon, and will provide the bakery items sold at By the Bean. The café will open in the former Hallie's Lunch Box and will offer breakfast, lunch, and possibly dinner.
Another coffee vendor at the market on Saturday was "Roasted by Ethan," offering a variety of locally roasted beans as well as some sweet snacks.

Others offering sweets and bakery items included Samantha Danosky of Lincoln, and Yours Truly Bakery, also of Lincoln. Nuthatch Hill was also on hand selling their specially blended, prize-winning meat seasonings and rubs, along with some very tasty looking pork cracklings.

Non-food offerings at the Market included bath products by Irish Indulgences. The Lincoln Rotary was on hand raising awareness and support for their local fundraising effort; the battle against polio. The Central Illinois Community Blood Center Bloodmobile was outside, collecting life-saving donations from any willing to give blood. It should be noted that the CICBC is the blood supplier for the Abraham Lincoln Memorial Hospital.

Central Illinois Ag from Atlanta brought in one of their large farm tractors for folks to see, and a bounce house was located nearby for youngsters to work off some of their early morning energy.

Inside, the POP (Power of Produce) booth was set up with plants and an opportunity for youngsters to plant their own small garden box to take home. The Logan County Extension Master Gardeners were on hand promoting gardening, and the Community Action Partnership of Central Illinois was there to discuss their Head Start program and other services offered. Outside, the Humane Society of Logan County was set up to discuss pet adoption with shoppers as they came and went.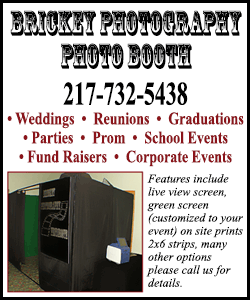 Other events of the day included a passport game for kids and an opportunity for them to win dollars they could spend on healthy products at the market. The Rock, the Bike Smoothie Maker, opened at 10 a.m. and Yoga was offered an hour at 9 a.m. There was also face painting, and WLCN Radio of Atlanta was on hand doing a live broadcast throughout the morning.

While at the moment, a lot of the produce offerings were early spring items such as asparagus and leafy greens, as the growing season progresses it is expected there will be many more offerings from the truck farms represented at the market. Shoppers can expect that offerings will change weekly as do the products that come fresh from their garden at home. There will also be meat and egg offerings at the market as well.

The ALMH Market will run now through October. It will be open on Saturday mornings only from 8 a.m. to noon.

[Nila Smith]