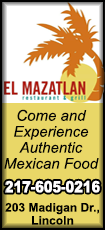 The community is invited to attend and spend some time getting to know Apex owners Becky Anderson and Chad Hatayama. ApexNetwork is located at 125 N. Sangamon Street, next door to Mission Mart in Lincoln.

The new office is one of 40 franchised therapy service businesses located across five states. Locally, this is the third such office to be opened by Anderson and Hatayama. They also own businesses in Forsyth and Mount Zion.

Left to right, Jason Baxter, Carrie Crose, Becky Anderson, and Chad Hatayama

Also on hand the day of the interview was franchise director, Jason Baxter, and office manager Carrie Crose, who mans the office daily, setting appointments and laying the groundwork for patient visits.

The Anderson and Hatayama began working to bring Apex to Lincoln at the first of the year. They noted that they were looking to expand, and had come to visit Lincoln, and enjoyed the town. Anderson said when they decided upon Lincoln, everything seemed to fall into place perfectly. She noted, it was an easy decision and said, "When it all falls into place easily, then you know that is where you are supposed to be."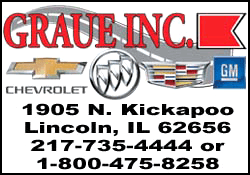 Hatayama added, "We liked the town, it just felt right, and we liked the downtown area. We're always looking to find places that have a need, not because there is a lack of service, but an opportunity for additional services."

Anderson said that the bigger small towns are what they preferred. She said coming into town, people were friendly, and they felt like there was a need and that their services would be welcomed.

She added that the two are looking forward to getting involved with the community, and becoming a part of Lincoln.

Anderson reiterated that the new business was not meant to be competition to anything already here. She noted that she has already visited the Abraham Lincoln Hospital's Todd Mourning, who heads up the physical therapy unit there. She noted it was an excellent facility, with which Apex had no intention of trying to compete.

Anderson serves as the business manager and marketing person for the business. She said she has experience as a business owner/manager since 2008 and finds that part of the business best suited to her. "I've been out around the square, introducing myself and getting to know people, letting them know we are here. To me that is the fun part, talking to people and getting acquainted."

Hatayama, who has a Master's Degree in physical therapy, will serve as the clinic manager, and overseer of the daily operations. For now, he is the only physical therapist for Lincoln, but the intention is to bring in a therapist and a therapy assistant. As the business grows, a second therapist may be added.
Anderson said one advantage to Apex, is that they can offer shorter wait times for patients needing care. The pair said when they receive a referral from a doctor, their goal is to get the patient in for the first visit within one business day.
Anderson added that over time, as they grow the business into multiple therapists, an additional goal will be to see that a patient sees the same therapist each visit.
Another offering of the ApexNetwork is a free screening, before visiting a medical doctor. Anderson explained that there were times when a patient will know that they have an issue, but they are not sure what route to take to get it resolved. The free screening, like a free consultation, will give the patient the opportunity to discuss his or her issue with the therapist and have a free evaluation. The therapist can then say whether or not physical therapy could be an option.

To receive treatment, the patient will need to visit his or her medical professional for a referral. Hatayama explained that all patients need to seek medical attention. If the doctor feels physical therapy is a solution, then the patient can ask to be referred to ApexNetwork. He added that Apex works well with most all insurance providers. They will also do the pre-certification for insurance coverage on behalf of the patient.

Also, Apex works with workers compensation claims, in which the referral may come from an insurance chosen doctor, or from a Worker's Compensation Case Manager. The treatment is commonly called Industrial T, which can include rehab from an injury and also a practice called 'work hardening' that helps get a person into shape for a specific on the job duty.

Other specific fields they work in include, but are not limited to, sports therapy and hand therapy.

In wrapping up, Anderson and Hatayama are excited about becoming a part of the Lincoln landscape. They have already joined the Chamber and are getting acquainted with the Young Professionals Network. They look forward to being involved in the summer festival season and are very excited about the Third Friday Downtown events. So, to put it simply, keep an eye out, you will be seeing them out and about, happily becoming a part of our community.

[Nila Smith]
Related website