Astros top Orioles on Correa's 13th-inning single
Send a link to a friend Share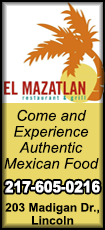 [May 25, 2016] HOUSTON -- Orioles center fielder Adam Jones possesses such a sterling reputation defensively that it required something unusual for the Astros to take advantage of him and Baltimore late Tuesday night.
Rookie Tony Kemp lined a triple over Jones' head leading off the 13th inning and Carlos Correa later added a walk-off single to lift the Houston Astros to a 3-2 victory over the Baltimore Orioles at Minute Maid Park.

Kemp, who made his major league debut on May 17, recorded his first career triple by taking advantage of Jones' shallow positioning in center. Once that ball carried over Jones the Astros (18-28) were poised against right-hander Dylan Bundy (0-1), the Orioles' fifth pitcher of the game.

"I don't know how many times that kid has hit the ball that far, but he crushed it," Jones said. "I gave it my best effort. I was pretty shallow, but I gave it my best effort."

Bundy followed by intentionally walking George Springer and Jose Altuve to set up a force at every base before Correa followed with the game-winner, snapping an 0-for-15 skid with his hit to center field.

"I was thinking this is great," Correa said of the intentional walks that preceded his at-bat. "This is where it is. I'm going end this. That's the mentality I have. I was visualizing us celebrating after my at-bat. So good it happened. It's really good it happened."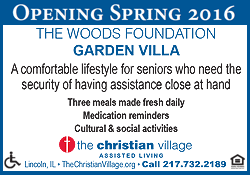 Houston rode a magnificent effort from its bullpen. Six Astros relievers combined for 16 strikeouts to match the club record for strikeouts by relievers set against the St. Louis Cardinals on April 25, 1962.

Michael Feliz (2-1) struck out the side in the 13th, but Tony Sipp, Luke Gregerson and Scott Feldman all recorded at least three strikeouts.

"Each guy came in and did a job," Astros manager A.J. Hinch said. "We had a little bit of trouble here and there and guys pitched out of it but to a man those guys came in and closed out innings with zeroes when we really, really needed it."

Springer finished 3-for-4 with two walks while batting leadoff for the second time this season. First baseman Luis Valbuena also recorded a multi-hit game going 2-for-4 with a two-run homer in the fifth inning.

Right-hander Chris Tillman gave the Orioles seven strong innings, allowing two runs on three hits and three walks with seven strikeouts.

When Tillman finally departed the Astros threatened almost immediately against the Orioles bullpen, with Springer turning a flare into right into a hustle double with one out and a tie game in the eighth.

However, Orioles reliever Darren O'Day recovered to retire Altuve and Correa on hard-hit balls to leave Springer stranded on third base.

[to top of second column]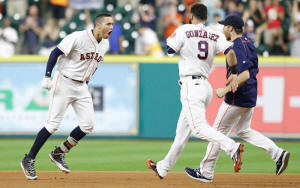 Astros celebrate Houston Astros shortstop Carlos Correa (1) game winning RBI hit against the Baltimore Orioles in the fourteenth inning at Minute Maid Park. Mandatory Credit: Astros won 3 to 2. Thomas B. Shea-USA TODAY Sports
The Orioles fashioned a threat in the ninth against Gregerson, loading the bases with two outs before Gregerson struck out leadoff hitter Joey Rickard to end the frame. Gregerson, like Feliz, struck out the side.

Astros right-hander Doug Fister had his run of six consecutive quality starts end after he labored into the sixth inning.

Pedro Alvarez lined a hanging breaking ball into the right field seats leading off the fifth, giving to the Orioles (26-17) a 1-0 lead with his third homer. Manny Machado opened the sixth with his 13th homer, this one above the train tracks in left field to tie the game at 2-2. Three batters later, Fister was gone, needing 106 pitches to complete 5 2/3 innings in which he allowed two runs on three hits and three walks.

"You saw two good teams pitching well tonight," Orioles manager Buck Showalter said. "I'd like to think that, but you'd still like to find a way to scratch something across and make good use of a real good outing by our pitching staff."

NOTES: Astros LHP Dallas Keuchel will get an extra day of rest before he starts Saturday against the Los Angeles Angels. The decision to bump Keuchel has more to do with keeping the rest of the rotation on schedule, not his recent struggles. Keuchel is 0-5 with a 7.78 ERA over his last seven starts. ... Baltimore selected the contract of LHP Ashur Tolliver from Double-A Bowie. Tolliver went 1-1 with a 2.42 ERA and two saves with 25 strikeouts in 18 games for the Baysox. His first appearance with the Orioles will mark his major league debut. ... C Erik Kratz cleared waivers and was given his unconditional release by the Astros. Kratz was designated for assignment on May 16. ... The Marlins claimed RHP Asher Wojciechowski off waivers from the Astros. Wojciechowski was designated for assignment by the club on May 17. ... Seeking to jumpstart his offense, Astros manager A.J. Hinch batted 2B Jose Altuve second, the first time this season Altuve didn't hit leadoff. RF George Springer was atop the order.
[© 2016 Thomson Reuters. All rights reserved.]
Copyright 2016 Reuters. All rights reserved. This material may not be published, broadcast, rewritten or redistributed.