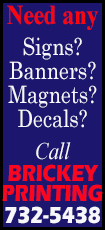 Atlanta

At Atlanta, there will be a day of activities that includes a breakfast by the United Methodist Men from 7 a.m. to 9 a.m. at the Atlanta Firehouse.

The Atlanta Boy Scouts will host a cake sale starting at 8 a.m. also at the firehouse.

At 10 a.m., there will be a Veteran Memorial Ceremony with the Atlanta Community Band performing on the lawn of the Atlanta Public Library. At 11 a.m. the Flying Feet Cloggers from Audra's Studio of Dance in Lincoln will perform.

Weather permitting, at 11:45 a.m. children are invited to take a fire truck ride to the Atlanta Cemetery for a flag placing event. Everyone wishing to attend should gather at the Atlanta Public Library.

From 11:30 a.m. to 1:00 p.m. the VFW Auxiliary #1756 will serve lunch at the firehouse. Lunch will also be served by Mr. Rob Polen, featuring items from the Atlanta Locker.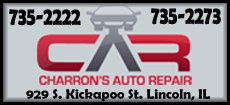 Lincoln

Memorial Day Services will be held at the Lincoln American Legion Post 263 beginning at 10:30 a.m. Weather permitting the ceremony will take place outside.

Joe Schaler, a Viet Nam veteran, and driving force behind establishing a Veteran's Commission in Logan County will be the guest speaker of the day.

Reverend Michael Paulson of the First United Methodist Church will give the invocation and benediction.

The Ladies of the Auxiliary will lay the traditional wreath, and the American Legion Color Guard will deliver the rifle salute and playing of Taps.

Afterward, everyone is invited to attend the annual ham and bean lunch at the Legion. The lunch is free, but donations in support of the food provision will be accepted.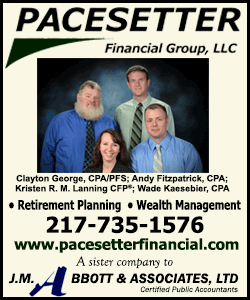 Mount Pulaski

In Mount Pulaski services will be held at both the Mount Pulaski Cemetery and the Steenbergen Cemetery.

The Mount Pulaski Cemetery is located on North Washington Street. In the case of inclement weather, those services will be moved to the Mount Pulaski American Legion Post 447 on South Washington Street.
The service will begin at 10 a.m. with welcome remarks from LTC Stan Manes.

Reverend Jonathan Buescher of the Mount Zion Lutheran Church will deliver the invocation.

There will be a Raising of the Colors ceremony, and the Mount Pulaski High School Band will perform

The program will include the Presentation of Wreaths and Flowers, the reading of the Mount Pulaski Grade and High School Memorial Day Essays, a keynote speaker, and a Fallen Soldiers Ceremony.

The rifle salute will be delivered by Mount Pulaski American Legion Post 447/Mount Pulaski SAL Squadron 447.

A second Memorial Day observance will be held at Steenbergen Cemetery Chapel at 11:20 a.m. Steenbergen is located three miles south of Mount Pulaski on the Illiopolis Blacktop (go right or west on BoJack Road).
[LDN/compiled from submissions]