Gary Metz grew up in the Lincoln area and attended Hartsburg High School. He graduated from Lincoln College with a degree in history, class of 1971.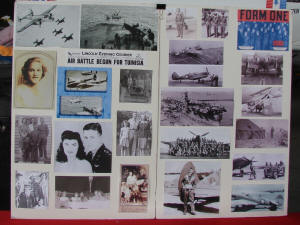 Historic photos collected by author Gary Metz of the WWII air campaign in North Africa where his uncle Virgil Radcliffe fought.

In addition to writing this book, Gary Metz is a sought after author of articles for aviation history magazines and newsletters. Because of his extensive research for "Last of the Randolph Blues," Metz has become a go-to-source of research assistance for other authors who write about WWII.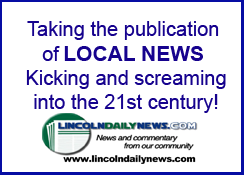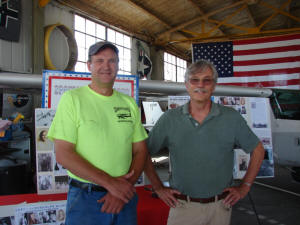 Gary Metz with Heritage in Flight President Rick Kidd.

"Last of the Randolph Blues" is a history of the last class of aviation cadets, ten in all, to graduate from Randolph Field in San Antonio, Texas, while still wearing the formal blue uniform. This class took place in 1942 as the training of pilots was ramping up for service in World War II. After this class, there were so many flight students that they were clad in khaki instead of the iconic blue uniform of Randolph Field, also known as the West Point of the Air.

One member of this class was Virgil Radcliffe, Gary Metz's uncle. Radcliffe was from southern Illinois, but his mother, brother, and sister lived in Lincoln in later years. After graduating from pilot training, Virgil Radcliffe flew combat missions from bases in North Africa. He flew famous fighters like the P-40 and the twinned tailed P-38 Lightning, nicknamed the "forked-tailed devil." After his service in Africa, Virgil rotated back to a training base in Florida. While awaiting re-deployment to a battle theatre, Virgil Radcliffe was killed in a training accident in a BT13 student training aircraft.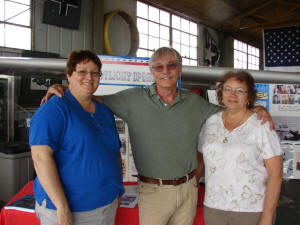 Gary Metz with cousins Janice Greer (R) and Cindy Morrow (L), both Lincoln residents.

The Metz and Radcliffe families still have a presence in central Illinois. Several cousins attended Gary's book discussion and signing and his brother Bob Metz is the owner of P&M Communications.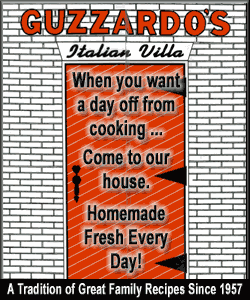 After graduating from Lincoln College, Gary was quick to leave central Illinois. "I could not stand the cold anymore. That is why I ended up in Tucson," he said. In addition to his immediate family, Virgil Radcliffe's aunt Arvetta Taylor lived in Clinton and a brother Paul Radcliffe lived in Bloomington.

"My book about the Randolph Field flight students is not just a recitation of facts and figures or words on a page. It involves real people and their emotions," Metz said.
In doing research for the book, Metz interviewed the families of all ten of the aviators. Some of the students were still living when Gary Metz interviewed them. One said that he was grateful to Metz for taking the time to interview him. Ed Moses said that in speaking with Metz, he was finally able to deal with his service in the military in World War II, something he had been unable to do until then.

In another case, as Gary Metz was digging into family histories, he was able to reconnect family members who had lost track of one another for decades. "They were grateful. They thanked me for helping them find their memories," Metz said. Family members shared letters and diaries with him that had been unread for years.

Gary Metz was able to connect to the residents of a house near the training base in Florida where Virgil Radcliffe was killed. The residents witnessed the crash. They indicated that it was a moment in time that they would never forget, a traumatic experience.

Sales of "Last of the Randolph Blues" were brisk at the Heritage in Flight Museum Saturday. Metz indicated he was pleased with the turnout. Metz generously contributed a percentage of the sales to the museum.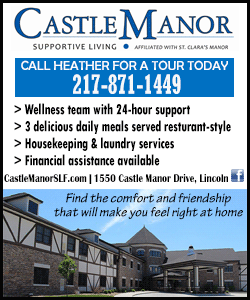 Asked what his next project would be, Metz indicated that he was still dealing with the emotions of completing his current endeavor. "I have mixed emotions about finishing the book. The research and writing was full-time for years. I'm glad it is done, but I'm dealing with post-book traumatic disorder," he said with a wry smile.

As it turns out, that is a real malady suffered by serious authors. Metz indicated that his girl friend, a professional psychologist, was able to see its effects in him.

In addition to his extended family, Gary Metz was able to reconnect with several childhood friends and fellow students who attended the event held at the Logan County Airport.

[Curtis Fox]