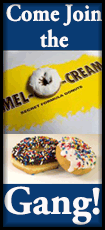 Siebert was nominated by his colleague, Wyatt Waterkotte, the Family and Consumer Science teacher at Mount Pulaski High School. In the nomination letter, Waterkotte wrote, "Based on my knowledge, Mr. Siebert exhibits a high degree of creativity and imagination in developing lessons that are exciting and educational for his students to engage in.

He shows a genuine interest in his students, which does not end when they leave the classroom, but he continues to follow them through high school and beyond.

Students regularly comment on how much they loved him as a person and how they learned from him as a teacher. He demonstrates a high level of character to the students under his influence, which I believe encourages the development of a good character quality in them."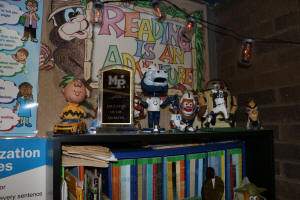 Siebert was presented a plaque and a $50 gift card at the September board meeting. Recipients of this award can choose a gift card from any Mount Pulaski business, and Siebert choose The Old Brickyard Pub and Grill. Ralph Allen, the school district's reigning Educator of the Quarter from last spring, surprised Siebert the day after the board meeting and presented him with the Traveling Trophy in his fourth grade classroom.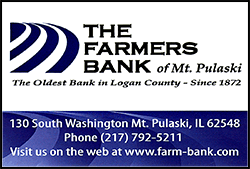 While Siebert may have been a bit surprised by the Educator of the Quarter award, his path to reach this achievement is even more surprising. Siebert's own success in the classroom as a child was pretty much a struggle, to say the least. Siebert had to push himself and overcome obstacles in learning to get to where he is today.

When asked the question, "At what age did you know you wanted to be a teacher?" Siebert kind of laughed and said, "Oh gosh, it was late. This is a funny story. I was a horrible student," he admitted. "I think education clicks at different times for different students. It just kind of depends on the student. It didn't click for me really until college. I struggled in grade school. I got C's and D's. My kids love to look at my report cards when we go to my home because they are like, "You were so bad." So it gives my kids hope."

Siebert continued with the story of his path to a teaching career, including the major obstacle he learned to overcome. "But anyway, I struggled. I had a hard time paying attention. I am ADD. I know I am and I was then and I didn't take medicine. So it was hard for me to focus and stuff, so I struggled all through school. When I got to high school I wanted to do well but it was tough for me so I studied really, really hard just to get mediocre grades. Then when I got to college, because I had studied so hard, I knew what worked for me and what didn't work for me and so I was able to use that and then do better."

Proudly he was able to say, "I ended up graduating ISU with honors. So that was kind of funny. I would have never seen that."

Siebert began his college career, though, in Lincoln at what is currently Lincoln Christian University and started out down a different path. ""As for when I wanted to be a teacher, I went to Lincoln Christian College to be a youth minister. I wasn't really sure what I wanted to do. All throughout high school, I was involved in programs where we would go to visit grade school students and the teachers were always like, "Ah, you should be a teacher." I'm like, laughing, "Yeah, right, no way, not gonna happen,"" he would state matter-of-factly. "I went three and a half years to LCC. I was going to be a youth minister. I was sitting there and I had a card that was the intent to graduate form that you had to fill out and I looked over at my wife and was like, "I don't think I want to graduate and be a youth minister." She's like, "What do you want to do?" Siebert said he told her, "Well, I think I want to be a teacher."

At that moment he changed career paths and schools, eventually attending Illinois State University. "So I switched to ISU and went to school for more; so I'm still paying on schooling for that decision."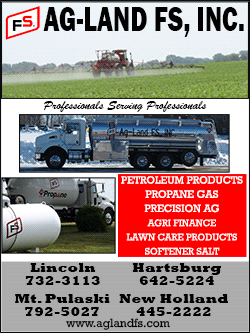 Financially it may be a bit of a setback, but certainly a step in the right direction that would end up paying off tremendously in ways you can never put a dollar amount on. With ministry education to always fall back on, Siebert set his sights on an elementary education degree at ISU. But first he had a pit stop along the way at a grade school in Lincoln.

The story continues, "So I went three and a half years at LCC and then I took a year off to work at Chester-East Lincoln. The next year I still worked at Chester-East as a P.E. aide under Mrs. Aper and then I started my schooling at ISU. It was during that time that Elizabeth was born. She was born when I was commuting back and forth because I was actually in class and Jill texted me and thought she was having a baby. I was like, "Ahhh..." But it was all good, it was all good."

The couple's first child, Elizabeth, was born in 1998 while Siebert was student teaching. At this moment Siebert is going through all the years in his mind, mentally putting together a picture of his past trying to recall exactly the year he graduated from ISU. "I was older, I was quite a bit older," he said, finally settling on 1999.

One thing he was certain on, he graduated from West Lafayette High School in Indiana in 1993.

"That's the Purdue thing. Go Boilermakers! Woohoo!" He smiled and cheered for his beloved hometown team. He made mention of a good sports season thus far, with his beloved Colts beating the Bears and his Boilermakers beating the Fighting Illini, all in football. His high school soccer team had also won a regional game this fall and of course, his beloved Cubbies were playing in October. His sports world was certainly giving him something to smile about.

Getting back on track with his career, Siebert noted, "I never dreamed of being a teacher, it just kind of lined things up and things fell into place for me. I've always loved working with kids. I like seeing that light bulb click when they get something."

Meanwhile Siebert, who has a strong Christian faith, certainly did not waste his three and a half years studying to be a youth minister. Aside from his teaching job, Siebert is also the children's minister at the Mount Pulaski Christian Church, a job he's held for several years now. As Siebert explains, "It just kind of fell into place, too. The children's minister, Bill Miller, decided to move on and when he left I kind of stepped up and filled in on an interim basis. They were like, well do you want to get paid for it? So I've been doing that, too."
For the man who simply cannot sit still, this particular job is also perfect for him and he loves the responsibilities that come with it. "We have Sunday morning services for the kids downstairs which are engaging, fun and energetic, obviously. Then we have Big Wednesday on Wednesday nights." Siebert never misses a Big Wednesday and the chance to entertain kids.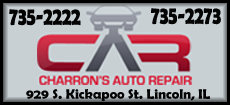 He has also been known to be involved with Fifth Quarter. Fifth Quarter takes place on Friday nights following home basketball games. As many as 100 kids have shown up to play games and eat pizza and snacks inside the Christian Church Family Life Center. Basically, anywhere in Mount Pulaski there are kids, there is Rob Siebert. He never fails to take advantage of the opportunity to influence and inspire the kids, even outside of the classroom.

Besides teaching Fourth grade at MPGS, Siebert is also the soccer coach at Mount Pulaski High School and he will take over the MPHS track coach position in the Spring. Siebert noted that he will still work with the junior kids in track, even though his coaching position has him moving to high school. "I just moved to the high school and I'll still see the junior high kids at the track and I can work with them there, too. That's kind of the best of both worlds for me because I still really enjoy working with the junior highers, but I want a challenge. I want to see if I can build up the high school program and get it to a good spot again."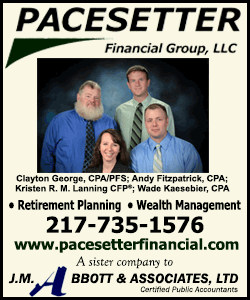 So was Siebert an athlete in school? Well of course. "I was a swimmer," he said. "I swam four years in high school and played football in junior high. Now I wish I would have stuck with it (football) but I didn't. I switched to swimming and I was a decent swimmer. I did well. I decided there wasn't really a point of pursuing it in college because I wasn't going to the Olympics or anything. I kind of dropped it and I kind of regret that now. I wish I would have kept doing it because I might have been able to swim for Lincoln College."

So how did this Indiana kid, who struggled throughout school, get to Lincoln in the first place? Simple. He followed his sister, Amy Dyer.

"I wasn't really sure where I wanted to go and I can't really tell you honestly why I picked LCC, except for the fact that my sister was there." Good enough reason. "My sister, Amy, went there and I liked it. I thought it was nice so I figured I'd go there."

The two are really close yet today. They both are married and live in Mount Pulaski and each of them are raising their three children in the community. The kids' ages are all intertwined and this has to be a fun time in their lives as "Uncle Rob" coaches the Dyer boys in soccer.

Speaking of married, the story of how Siebert met his wife, Jill, is another funny tale. He tells it like this, "I forget what day I arrived (at LCC), my wife can tell you better than I can, but basically the second day of freshman orientation I was in a group of people and I was talking with a girl I thought was cute and I said something stupid and this girl called me a dork and she left the conversation and the next day I was holding that lady's hand and that was Jill," he smiled. "She called me a dork the first time we met and the second day we were holding hands after a concert and the rest is history. So, kind of funny. I really don't know how that all worked out but I'm glad it worked out the way that it did."

The moral to that story, according to Siebert, "So I always tell these kids, I tell these girls, be careful don't call boys dorks because, you gotta be careful, you never know what could happen!" He cracks a big grin.

So Jill married her dork on May 25, 1996. Twenty years later the two still share a lot of fun. "Usually our anniversaries are spent going out and buying foam so I can make stuff for vacation bible school decorations," he says. "VBS comes up so usually we go above and beyond for decorations. We get a truck and we buy foam on our anniversary, that's so exciting, so exciting," he grinned.
The twenty years has been very good to them in the way of children. That daughter, who was born while Siebert was attending classes at ISU, is now a freshman at Lakeland University in Sheboygan, Wisconsin. Elizabeth is a double major at Lakeland University, majoring in both Spanish Education and Chemistry Education. Siebert is very proud of her double major and even mentioned how this school thought the idea was great. "Lakeland was like, that's genius because you're so marketable."

Elizabeth is also on the school's soccer team. According to her proud father, "She enjoys it. It's a lot of fun." He even recounted how he was able to watch some of Elizabeth's soccer games on the internet this season. The former technology coordinator at MPGS, yes, add that to his resume, was also excited about this latest technology that brought him and his college daughter closer despite the miles between them. "We bought an XBox Live account and a headset so we play video games. Every once in a while Elizabeth and I will play video games and just talk." A little Sunday night quality father-daughter time.

The Siebert's also have a daughter at home. Emily, a sophomore at MPHS, is a cheerleader and recently hosted Ainhoa, a Spanish exchange student. It was pretty evident after observing Ainhoa with the Siebert family that they now consider her as one of their own.

Rounding out the family is Daniel, an eighth grade student at MPGS. Daniel is an avid soccer player and his dad is especially looking forward to his skills on the field in the future.

"He's been really working on his soccer skills, so I am looking forward to having him on the soccer team next year. That will be neat," said Siebert, flashing another smile.

For the guy who really doesn't seem to have any down time, what does he like to do just for fun?

"I have a lot of stuff I like to do, I just don't get to do it a whole lot. Garrett LeVault and I, my assistant coach who also works at the Christian Church, we are big into paint ball and we actually have a paint ball team in Lincoln. But we don't really get a chance to play anymore because a lot of my friends, their kids are in high school and college, and just everyone is busy. So I love paintballing." Siebert then adds, "I love just being creative, whether it be making things physically, like out of foam, or painting or drawing or music. I like making music and stuff."

Siebert is pretty famous for making birthday videos for the family and can sing a version of Flo Rida's "My House" that will get stuck in your head for eternity. Siebert also likes all genres of music and says he doesn't necessarily have a favorite band. He does admit to being a channel-changer on his XM Radio. "If I don't like one song I move to the next."

He does, however, stay loyal to his sports teams. At the top of his list is his beloved Indianapolis Colts. "I like watching football. Love my Colts," he says.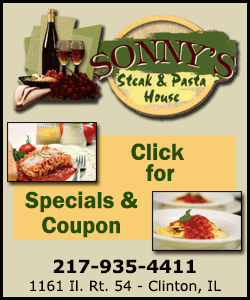 In the corner of his classroom is a bookcase and on the top shelf sits various Colts collectibles. Meanwhile, behind his desk hangs a Colts poster on the wall. The guy also adores, as mentioned before but worth repeating, the Purdue Boilermakers and again, not meaning to rub this in but the guy cheers for the Chicago Cubs, who are still playing baseball in late October. Good guy all around.

If there was an MVP award for community members, this is a guy who would win hands down. Besides being a teacher, coach and a children's youth minister, Siebert gives his time graciously to the community. He volunteers for Community Pride events, he lends his voice to announcing duties and games associated with the Fall Festival, he takes pictures at nearly every sporting event in town and even writes an occasional article for the local newspaper. He never misses a church or school activity. Basically, if there is anything going on in the community, Rob Siebert is there giving a helping hand. He has said the words, "I love this community" and each and everyday he lives his life demonstrating that. Siebert's passion for life and his high energy, positive personality make him a person that everyone loves to be around.

His students certainly admire, respect and love him, but he is more than just a teacher, as Landon Watkins learned earlier this school year. During the MPHS soccer season, Siebert included Watkins, a student in his fourth grade class, in on several high school soccer activities as the young man battled a brain tumor.

Ten-year-old Landon summed it up perfectly when he said, "Mr. Siebert is the coolest teacher, coach and friend. He kept my mind off of my surgery by including me with the soccer team. He will always be a part of our family."

Congratulations, Rob, on this very deserving honor!

[Teena Lowery]