EU commissioner apologizes for remarks on China
Send a link to a friend Share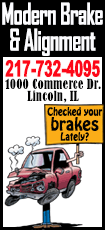 [November 03, 2016] By Alastair Macdonald

BRUSSELS (Reuters) - European Commissioner Guenther Oettinger issued a formal apology on Thursday for remarks that China took offence to but which the German conservative politician had declined to withdraw for several days.

In a statement issued by the EU executive on his behalf, the digital affairs commissioner who had referred to Chinese people as "slit eyes" during a speech last week to German business people also apologized to others who may have been "hurt".

He named the Belgian region of Wallonia but made no direct reference to those who also accused him of homophobia in comments which Oettinger said he had made off the cuff in order to shake Germans out of complacency toward Chinese competition.

"I can now see that the words I used have created bad feelings and may even have hurt people," said Oettinger, 63, who is set to take over the EU budget affairs portfolio soon. "This was not my intention and I would like to apologize for any remark that was not as respectful as it should have been."

"I have great respect for the dynamics of the Chinese economy – China is a partner and a tough competitor," he added.
The 300-word apology by the former premier of the rich manufacturing state of Baden-Wuerttemberg came a day after the Chinese Foreign Ministry criticized him.

The EU and China have a fraught relationship. Brussels accuses Beijing of "dumping" cheap products that harm European industry and of abusing human rights. But it also wants access to the rapidly growing Chinese market and having senior figures causing needless offence has clearly not helped that goal.

Oettinger, a commissioner for nearly seven years, has long had a reputation for plain speaking -- he told a public forum in September that Britain had voted to leave the EU because then prime minister David Cameron ran a "shit campaign" to remain.

But his remarks in his native tongue to a forum in Hamburg have put him under unprecedented pressure, with some members of the European Parliament suggesting they might try to block his coming promotion to vice president in charge of the EU budget following the departure of his Bulgarian colleague.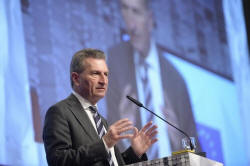 Guenther Oettinger, European Commissioner for Digital Economy and Society, delivers a speech at the world's biggest computer and software fair CeBit in Hanover, Germany, March 14, 2016. REUTERS/Nigel Treblin
German Chancellor Angela Merkel has stood by her party ally.

Oettinger had criticized Germany's political priorities -- citing maternity leave and childcare allowances -- and suggested jokingly that "compulsory gay marriage" might be proposed.
"I was frank and open – it was not a speech read-out, but 'frei von der Leber' as we say in German," he said in his apology -- literally "free from the liver", or very blunt.

"My message was to give a wake-up call to the German audience: if the Germans focus their political work on reducing the retirement age, increasing pensions etc., no-one should be surprised if we lose the global battle for competitiveness.

"The same goes for Europe as a whole. We need to double our efforts and not take a nap and rest on the sofa."

(Reporting by Alastair Macdonald; editing by Robert-Jan Bartunek)

[© 2016 Thomson Reuters. All rights reserved.]
Copyright 2016 Reuters. All rights reserved. This material may not be published, broadcast, rewritten or redistributed.