Wedge issue: Texas golf range offers Clinton and Trump targets
Send a link to a friend Share
[November 03, 2016] LONGVIEW, Texas (Reuters) - Looking for a way to help relieve stress in a heated political season, a Texas golf course owner has given patrons the chance to whack their balls at large posters of the leading presidential candidates affixed to hay bales.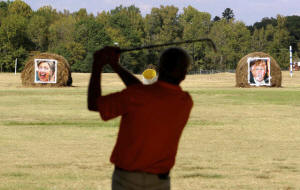 Mike Williams, owner of the Alpine Target Golf Center, shows off his swing at a driving range with hay bales covered with the portraits of U.S. presidential nominees Hillary Clinton and Donald Trump, which are used as a mock polling station, at Alpine Target Golf Center in Longview, Texas November 2, 2016. REUTERS/Todd Yates
In the Republican-stronghold of Longview, where Alpine Target Golf Center is located about 120 miles east of Dallas, Democrat Hillary Clinton has been the overwhelming target for patrons' golf balls.

"Hillary Clinton is taking it a lot on the chin," owner Mike Williams said on Wednesday of the promotion that started about a week ago.

The Trump poster has suffered little damage, Williams said, noting "he is still in great shape."

(Reporting by Todd Yates; Editing by Andrew Hay)

[© 2016 Thomson Reuters. All rights reserved.]

Copyright 2016 Reuters. All rights reserved. This material may not be published, broadcast, rewritten or redistributed.