Wrigleyville goes bonkers as Cubs end 108-year drought
Send a link to a friend Share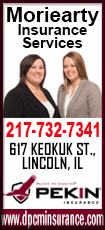 [November 03, 2016] By Timothy Mclaughlin and Kim Palmer

CHICAGO, CLEVELAND (Reuters) - Jubilant Chicago Cubs fans spilled from sports bars, restaurants and viewing parties across the city to celebrate their beloved team's first World Series triumph in 108 years on Wednesday.

The Cubs, long-known as Major League Baseball's "Loveable Losers," had endured one of professional sports' longest streaks without a title and their fans suffered along with the team, enduring decades of disappointment.

But in the early hours of Thursday morning, not long after Chicago blew a late-game lead, Cubs third baseman Kris Bryant fielded a grounder that he fired to first for the final out in a stirring 8-7 extra-inning game.

"Unbelievable. We have been waiting a long time for this. Just to be around everyone to see this. This is perfect baseball," Greg Kojak, 36, said as he watched a TV through a glass door at a restaurant near Wrigley.

Wrigleyville, the neighborhood around Wrigley Field, was party central as thousands of fans jumped and screamed in wild celebration when the last out was recorded. Fireworks lit up the sky as fans sprayed beer and Champagne as they joyfully cried.

"I can't even explain how I feel right now. This is so epic. I've waited my whole life for this. This is the most amazing feeling in the world," said Dina Mansaour, 33, sobbing on the street a few blocks from the stadium, where fans stood on cars and waved "W" victory flags.

The celebration was rowdy but peaceful as throngs of police officers lined the streets. Some officers high-fived fans and sang along to "Go Cubs Go," with fans.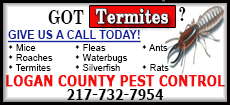 "I'm so excited. I'm so excited. My mom took me to my first Cubs game but she has passed on and this is for her. This game is for her," said Fadiyla Mance, 25, as she waved a "W" flag.

In Cleveland, dejected fans - who have not seen their own team win a title since 1948 - were left wondering what went wrong.

"It was a game of ups and downs," Indians fan Alayna Fodor-Gopal said. "And I'm from Cleveland so there is always next year."

Like the Boston Red Sox, who battled the so-called "Curse of the Bambino" after trading away legendary slugger Babe Ruth in 1920 to their arch rival New York Yankees, the Cubs have their own bad luck legend: the "Curse of the Billy Goat."

In 1945, Billy Goat Tavern owner Billy Sianis was supposedly asked to leave Wrigley because the smell of his pet goat was disturbing other patrons. Sianis allegedly vowed the Cubs would not win any more, and the team had to wait until this year to finally return to the World Series.

"There's no more curse now, the goat is history," said Cubs fan Rodrigo Gonzales, 24, moments after the game ended.

The team's diehard fans stuck with the team despite its failures. They watched, and waited, as Chicago's other sports franchises racked up championships. Even the crosstown rival White Sox ended their own decades-long title drought in 2005.

[to top of second column]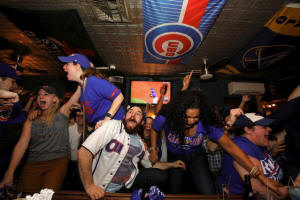 Fans of National League baseball team Chicago Cubs gathered to watch the game at Kelly's bar celebrate their Major League Baseball World Series game 7 victory against American League's Cleveland Indians in Manhattan, New York U.S., November 3, 2016. REUTERS/Andrew Kelly
"It happened: Cubs win World Series. That's change even this South Sider can believe in. Want to come to the White House before I leave?," tweeted President Barack Obama, a fan of the Chicago White Sox, who play on the city's South Side.

The Indians' loss leaves their fans having to wait another year to end the team's World Series victory drought. Their team have not won a Major League Baseball title since 1948.

Other Cleveland teams also suffered long bouts of futility that saw them struggle as basement dwellers in the standings and made them easy targets for rival fans.

In June, led by Ohio native LeBron James, the NBA's Cavaliers ended the city's drought in major-league sports titles that dated back to 1964, when the Browns ruled the National Football League.

"There is a lot of renewed pride in the city and the success of the ball club goes along with that," said Scott Longert, baseball historian and author.

Some 370 miles to the west, fans of the Cubs have endured a few close calls since 1945. In 1984, the Cubs were one win away from going to the World Series but then lost three straight games to the San Diego Padres.

Perhaps their most painful loss came 13 years ago, when Cubs fan Steve Bartman, with his team ahead 3-0 and five outs from a World Series berth, reached for and deflected a foul ball that a Chicago outfielder appeared ready to catch.

The Cubs went on to lose 8-3 and lost the series the next night. Bartman immediately became a symbol of the team's cursed fortunes.


"It's a dream come true," said Denise Watford, 36, near Wrigley Field after her team's historic victory.

(Writing by Timothy Mclaughlin in Chicago and Brendan O'Brien in Milwaukee; Reporting by Nick Carey in Chicago and Kim Palmer in Cleveland; Editing by Frank Pingue, Larry King)
[© 2016 Thomson Reuters. All rights reserved.]
Copyright 2016 Reuters. All rights reserved. This material may not be published, broadcast, rewritten or redistributed.