Gasol's bucket at buzzer lifts Grizzlies past Nuggets
Send a link to a friend Share
[November 09, 2016] MEMPHIS, Tenn. -- Vince Carter turned back the clock with a 20-point game. But it was his inbounds pass to center Marc Gasol that was his biggest play and set up the Grizzlies' buzzer-beating 108-107 victory over the Denver Nuggets on Tuesday night at FedExForum.

"A stressful situation," Carter said of the lob to Gasol in the lane, which came after he went through the play's progressions as he kept the five-second count in his head. "I just wanted to put it where only Marc could get it and let him take care of the rest."

Said Gasol: "The guy guarding the inbounds pass jumped early. Great pass. Right on point."

Carter's 20 points, at 39 years and 287 days old, were the most by a player of that age in the NBA since Michael Jordan, at 40 years and 53 days, scored 25 for the Washington Wizards on April 11, 2003.

"My old-timer is pretty good," said Memphis coach David Fizdale.

Denver guard Emmanuel Mudiay, who scored a game-high 23 points, appeared to have made the winning basket with 7.9 seconds left in the fourth quarter. Trailing 106-105, the Nuggets trapped point guard Mike Conley on an inbounds play. Guard Gary Harris stole the ball and passed to Mudiay, who finished with a running dunk.

In the moment, Conley threw his hands up in the air clearly shocked no foul was called.

"I don't wanna get fined, man," Conley said afterward. "I got a lot of words for that call."

But the Grizzlies, after turning the ball over with 4.7 seconds left, got a reprieve when Conley stole Mike Miller's inbounds pass. Conley drove toward the basket and the ball flew out of bounds but was ruled Memphis ball. Then Carter found Gasol for the winning basket.

The turnover was one of 22 for Denver on the night and those turnovers led to 24 Memphis points.

"We have to take care of the ball," said Nuggets coach Michael Malone. "That's it, just take care of the ball."

Said Mudiay: "We had it. It was in our favor, but we got to execute down the stretch. You can think about it tonight, but then you've got to let it go. That's why God made different days."

Gasol finished with 19 points and six assists. Forward Zach Randolph scored 16 points with eight rebounds off the bench. Conley had 10 points, seven assists and five steals. And Carter, besides hitting 8 of 13 shots, added five assists, three rebounds and two blocks in 31 minutes off the bench.

"I'll feel it," Carter said of all the court time. "But it's like I told coach, I'll deal with it later on."

All five Denver starters scored in double-figures with Danilo Gallinari scoring 21 points with seven rebounds, Harris 15 points, forward Nikola Jokic 12 points and center Jusuf Nurkic chipping in 11 points with seven rebounds.

[to top of second column]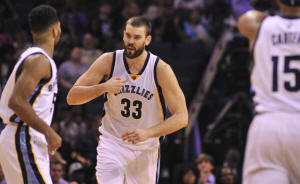 Grizzlies center Marc Gasol (33) celebrates during the second half against the Denver Nuggets at FedExForum. The Memphis Grizzlies defeated the Denver Nuggets 108-107. Mandatory Credit: Justin Ford-USA TODAY Sports
Denver (3-4) hit 35 of 70 shots from the floor for 50 percent, including 10 of 24 from 3-point range.

Mudiay was 7 of 13 from the floor and also had seven assists, but was frustrated by his seven turnovers.

"I'm sucking at taking care of the ball," he said.

Memphis (4-4) made 44 of 86 from the field and 7 of 24 from long range. The Grizzlies dominated points in the paint 58-34; they entered the game ranked 28th in the league in that category, averaging 35.4 points per game.

Memphis handed out 29 assists to 14 turnovers.

"Our pace was a little better," Gasol said. "The cutting and screening were better."

Rookie Andrew Harrison perhaps took a step toward winning the Grizzlies' backup point guard job as he finished with 10 points, six assists, four steals, a block and three turnovers in 26 minutes.

While the Nuggets wrapped up a five-game road swing, the Grizzlies are about to start a four-game road trip.

"It's a big win, an emotional win," Carter said. "Something to rally around."

NOTES: Second-year Denver G Emmanuel Mudiay scored 24 points in the first quarter of the team's 123-107 victory at Boston on Sunday and finished with a career-high 30 points. Mudiay went 9 of 10 from the floor in the first quarter and was 3 of 4 from 3-point range. ... Memphis PG Mike Conley came into Tuesday's game leading the team in scoring (20.8 points per game) and assists (6.7). He was one of only eight NBA players leading his team in both categories. ... Denver SG Will Barton missed his fourth straight game with a sprained left ankle. ... Grizzlies G/F Tony Allen was out with a right groin injury. Allen was held out of the first three games this season with knee soreness.
[© 2016 Thomson Reuters. All rights reserved.]
Copyright 2016 Reuters. All rights reserved. This material may not be published, broadcast, rewritten or redistributed.