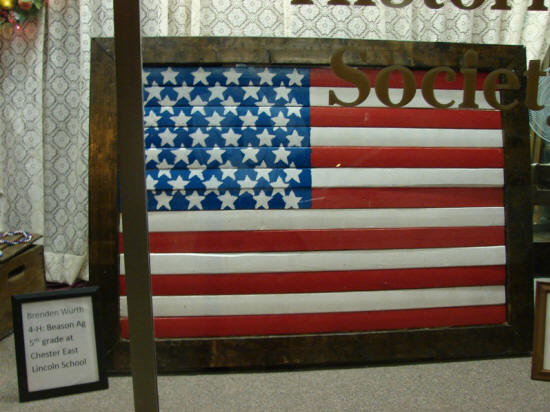 Youth's 4-H project to move from LCG&HS display to Lincoln Heritage Museum


Send a link to a friend Share
[November 12, 2016] LINCOLN - The Logan County Genealogical and Historical Society prides itself on having an informative and attractive window display at their headquarters on Chicago Street in Lincoln. Recently, the window has contained a unique item, an American flag, handmade of wood by Brenden Wurth.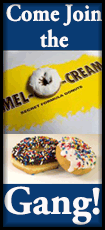 Brenden, a fifth grade student at Chester-East Lincoln School, built the flag as a project for his Beason Ag 4-H Chapter. Brenden is in his second year as a 4-H member. He entered the flag in the Logan County Fair's 4-H exhibit, with the hope of winning the right to send his project to the state 4-H competition in Springfield. While on display at the Logan County Fair, Brenden's flag caught the eye of Logan County Fair Dairy and Culinary Superintendent Mary Ellen Martin.

Martin is also a member of the Logan County Genealogical and Historical Society. As part of her volunteering at LCG&HS, she is a member of a three person window decorating committee that creates the display. The window diorama is changed on a regular basis depending on the season and approaching holiday with the aim of providing a visual history lesson. Many of the items in the window have been donated. Martin asked Brenden if he would loan his flag to the LCGHS for use in the window. She received an enthusiastic, "Yes!"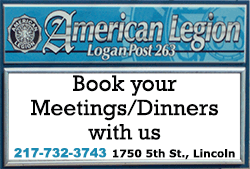 This week Brenden explained a bit about his project. He said, "The flag project took me about a week to complete."

LCG&HS Corresponding Secretary Mary Ellen Martin presents Brenden with a certificate of appreciation for loaning his flag to the Society for their window display.

It has true flag dimensions. While it is popular to make flags out of wooden shipping pallets these days, Brenden and his mom Crystal wanted to create a flag that was true to form, not a square like a shipping pallet.

"The stars were the most difficult part of the project. We created a lot of patterns to try to get the size and placement just right," said Brenden.
Not only is Brenden good at woodworking, as evidenced by the beautiful flag, he also is multi-talented. He creates projects from recycled glass.
"Brenden is really happy that the LCG&HS wanted his flag in their window. We drive by all the time to look at it. He is really proud of it," said Crystal Wurth. Brenden is looking forward to creating more art at the Beason Ag 4-H Chapter.

The LCG&HS has now changed its window display to pay homage to the service members of the United States in honor of Veterans Day. It will next be on loan to the Lincoln Heritage Museum at Lincoln College for the second semester. Current plans are for it to be in the atrium outside the entrance to the museum.

Look for the flag to arrive at the Lincoln Heritage Museum in the near future.

"The Beason Ag 4-H Chapter is small, but we have great participation and leadership," said Crystal. She noted that the leader of the chapter is Nancy Drake who is in her forty-eighth year. "We are looking forward to celebrating her 50th," Wurth said.

[Curtis Fox]