Visitation: 4 p.m. to 7 p.m. tuesday, November 1, at Fricke-Calvert-Schrader Funeral Home in Mount Pulaski
Masonic Rites: Tuesday at 7:30 p.m.
Service: 10:00 a.m. Wednesday at the funeral home
Funeral home: Fricke-Calvert-Schrader, Mount Pulaski
Obituary
David K. Reynolds, 74, of Springfield passed away at 7:31 P.M. Friday October 28, 2016 at Memorial Medical Center in Springfield.

David was born on January 14, 1942 in Bloomington, the son of Warren "Bill" and Dorothy (King) Reynolds. He married Gloria Scott at Grace Methodist Church in Decatur on July 15, 1961.

Surviving is his wife Gloria of Springfield, one son Bill (Kristy) Reynolds of Mount Pulaski, one daughter, Janet (David) Johnsen of Marion, TX, one brother, Daniel (Cathy) Reynolds of Lititz, PA, five grandchildren, Mary, Katy, Bethany, Jacob and Jessica, and one great granddaughter Falon. He was preceded in death by his father, mother, step-father, James Doyle and granddaughter Jill Denise Reynolds.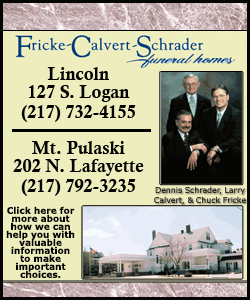 David worked with heavy machinery for MRS Machinery and West Side Tractor in Naperville. He retired from Roland Machinery in Springfield. He was a member of the Mount Pulaski First United Methodist Church, Carlock Masonic Lodge #904, Valley of Springfield Scottish Rites, Ansar Shrine, Past Master of Carlock Lodge, New Salem Shrine Club, and current president of Ag Corps.

Services for David will be at 10:00 a.m. Wednesday November 2, 2016 at Fricke-Calvert-Schrader Funeral Home in Mount Pulaski. Visitation will be from 4:00-7:00 p.m. Tuesday November 1, 2016 at the funeral home, with Masonic Rites at 7:30 p.m. Burial will be at a later date at Mount Pulaski Cemetery.

Memorials may be made to the First United Methodist Church of Mount Pulaski.
Click here to send a note of condolence to the family of David K. Reynolds